French naval cadets visit HMS Raleigh
The 13 cadets from the Ecole des Officiers du Commissariat de la Marine (EOCM), the French equivalent of the DMLS, were given a full tour of…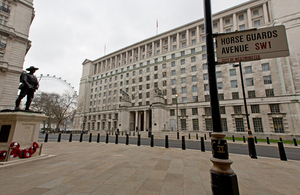 The 13 cadets from the Ecole des Officiers du Commissariat de la Marine (EOCM), the French equivalent of the DMLS, were given a full tour of the Royal Navy school, which provides training to the chefs, stewards, supply chain specialists, writers and officers who make up the Royal Navy Logistics branch.
The French visitors were able to view facilities and meet some of the Royal Navy personnel under training.
Other highlights of the visit included the chance to see members of the Logistics branch at work on board HMS Monmouth alongside at Devonport Naval Base.
The visit culminated with a Royal Navy versus the French Navy football tournament, which ended in a draw!
Accompanying the French naval cadets was Captain Francois Lemaitre, the Commandant of the EOCM, who met with Captain Steve Murdoch, the Commanding Officer of HMS Raleigh, and Commander Heber Ackland, the Commandant of the DMLS.
Captain Lemaitre also travelled to the Defence College of Logistics and Personnel Administration (DCLPA) at Worthy Down in Hampshire, the parent unit of the DMLS, where he held discussions with the Commandant of the DCLPA, Brigadier Alistair Deas.
Commander Ackland said:
The DMLS has a long-standing relationship with the Ecole Commissariat and, in the spirit of the new Defence Agreement between Britain and France, this bond of friendship and co-operation is being strengthened.

Many of the challenges facing the two schools are similar and as a result of this visit new areas of co-operation will be explored between the Ecole Commissariat, DMLS and the DCLPA.
Published 21 May 2012