Press release
Freight industry delivers festive cheer to millions
Freight is an essential part of Britain's economy with billions of tonnes of goods delivered each year.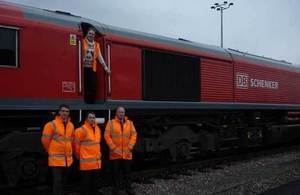 The rail freight industry will celebrate another bumper year by helping deliver festive cheer to millions of families this Christmas.
The sector is an essential part of Britain's economy, delivering billions of tonnes of goods each year and contributing £5.9 billion to the UK's overall output.
And this Christmas millions of people will reap the benefits of this Great British success story, which:
keeps the lights on in our homes by delivering the coal that fuels our power stations. Rail freight is responsible for 35% of the fuel used to make electricity
transports the food and drink needed for people's Christmas dinners - the sector moves goods for all the major supermarket chains
helps deliver the toys and gifts that will be unwrapped by millions on Christmas morning - a quarter of all containerised goods imported into the UK are moved by rail
Rail Minister Baroness Kramer said:
The UK's freight industry is a Great British success story that delivers a fast, safe and carbon efficient service to thousands of businesses, driving forward our economy.

The government is determined to build on that success. That is why we will have invested more than £400 million in improving freight infrastructure by 2014 with a further £200 million in the pipeline by 2019. We are also providing almost £19 million in freight grants to help move the equivalent of 800,000 lorries off the road and onto the rail network.

The freight industry can be extremely proud of its achievements. In fact if Santa had access to such a great service I'm sure he'd make short work of delivering all those presents.
Freight moved by rail increased by almost two thirds between 1994 and 2010 and is projected to keep growing further.
In 2012 to 2013 the amount of freight moved by rail was 21 billion net tonne kilometres. This was a 1.9% increase on the previous year.
Fast freight facts:
rail freight moves goods for all the major supermarket chains
a quarter of all containerised goods imported to the UK move by rail, including clothes, food, toys etc
rail freight keeps the lights on by moving 35% of the fuel used to make electricity
rail freight's heaviest train is 4,000 tonnes - equal to 160 lorries
Britain's fastest freight train moves letters at 100mph
each week freight trains leave Britain for Spain, Italy and Germany
on average, every 1.5 minutes a freight train starts its journey
using rail instead of road reduces CO2 emissions by 70%
Rail media enquiries
Press enquiries 020 7944 3021
Out of hours 020 7944 4292
Switchboard 0300 330 3000
Published 24 December 2013