World news story
Freeze-Frame Premiere: bringing the UK and China closer together in film
On 1 December, Deputy Head of Mission Andrew Key hosted the Premiere of first ever British Embassy GREAT film project, Freeze-Frame.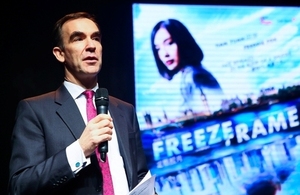 Attended by lead actress, Tian Yuan, British director Anthony Fabian and executive producer Carter Pilcher, the screening event brought together over 100 British and Chinese creative industry and media guests, to celebrate the release of the film.
Available to watch online ,film fans in China are in for a special treat with this film created especially for the inaugural GREAT British Online Film Festival. Launched in October on leading online video portal LeTV, the festival is running for two months and features more than 50 top British features and short films. The films are all available to watch for free at www.filmisgreat.cn (a Mandarin and English website).
Freeze-Frame is a creative collaboration between the UK government's GREAT campaign and Virgin Atlantic Airways.
Produced by ShortsTV and directed by award-winner Anthony Fabian, Freeze-Frame is a 17-minute romantic comedy, taking audiences on a voyage to London, Edinburgh and Shanghai. The film stars award-winning Chinese actress Tian Yuan and British rising star Freddie Fox.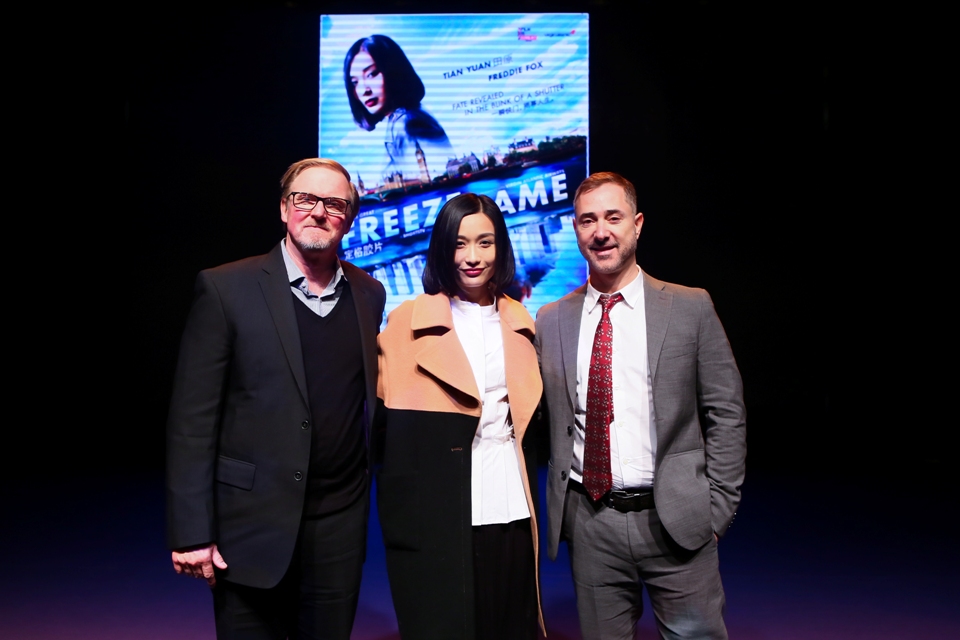 Director Anthony Fabian commented:
With Freeze-Frame, we are planting a small seed which we hope will grow and proliferate into a mighty forest of collaboration between the British and Chinese film industries. Great stories can be found everywhere, so my approach to filmmaking has always been very international; any project that helps foster greater understanding between different cultures, such as this one, is immediately appealing to me. It's also been a joy to discover and work with the exceptionally talented Tian Yuan, whom I didn't know prior to making this film.
Tian Yuan, plays a daring young woman, Chen Fei, on a top secret mission that takes her halfway across the world in order to honour a promise. Not afraid to bend the rules, and determined to succeed, Fei runs into unexpected troubles that require her to play detective and secretly chase the handsome stranger she meets on a plane.
In recognition of her contribution to the UK-China creative partnership, Tian Yuan, was named 'GREAT Britain on Screen' Image Ambassador at the launch of the GREAT British Online Film Festival on 9th October by British Ambassador to China, Sir Sebastian Wood.
Tian Yuan said:
I love British film, myself being both an actor and director. My experience of shooting Freeze Frame in the UK was unforgettable, and I greatly valued this chance to admire the beautiful scenery and work alongside top British film talent. As Image Ambassador, I hope that in the future I can continue to promote and encourage cooperation in film between China and the UK.
Freeze-Frame showcases the UK's world-leading film talents, both behind and in front of the camera, to new audiences across China. The film also references some of the UK's most famous productions in the story. Freddie Fox's character, Jack, take audiences to a succession of famous British locations as featured in films such as Harry Potter, Downton Abbey and Love Actually. The film also intends to inspire Chinese netizens to travel to the UK and experience these iconic locations for themselves.
Film – and, increasingly, television – is a growing driver of tourism to Britain. When Daniel Craig and Judi Dench, as James Bond and M, stood surveying the lush landscape of Glencoe, millions of cinemagoers admired it too – and the mountain has since seen an increase of more than 40% in visitors. When Harry Potter dipped and dived on his broomstick at his first Quidditch lesson, Alnwick Castle played the role of Hogwarts – and saw an increase in visitors of 230%, boosting the local economy by an extra £9million; the Castle now even hosts Quidditch lessons for visitors. VisitBritain research indicates that 40% of potential visitors would be "very likely" to visit places they've seen in films or on TV, which now accounts for nearly 10% of all tourism.
In April this year, the Sino-UK Film Co-Production Treaty was signed in Beijing, sparking the creation of a series of cross-cultural projects to mark the new partnerships between the two nations in producing creative, quality film. To develop this opportunity further, the 'GREAT Britain on Screen' campaign has run through 2014 and into next year, promoting the best of UK film and TV to fans and industry professionals across the country.
Carter Pilcher, Chief Executive of ShortsTV, the producers of Freeze-Frame, said:
We're delighted to be teaming up with the GREAT Campaign and Virgin Atlantic Airways to bring something very special to Chinese audiences,that no one has ever done before. We think Freeze-Frame will really blow audiences away, and hope that it will serve as an example that jumpstarts the Chinese and British filmmaking cooperation.
Tune in to the GREAT British Online Film Festival to watch Freeze-Frame and other British films at www.filmisgreat.cn !
Published 4 December 2014