Freedom to fly: Pickles to cut red tape that stops the public from flying flags
Eric Pickles today announced proposals to make it easier for people to fly flags of their choice without facing costly restrictions and red …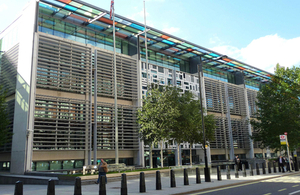 Eric Pickles today announced proposals to make it easier for people to fly flags of their choice without facing costly restrictions and red tape. The moves are intended to boost England's local and national identities and strengthen community cohesion.
Under current planning rules, only a select few flags are allowed to be flown without express permission from town hall officials. Getting this approval can incur fees of up to £335. In a speech to the Flag Institute, the Communities and Local Government Secretary is today announcing his intention to launch a consultation to allow a wider variety of important and historic flags to be flown by people keen to celebrate their local and national heritage and culture.
The last Government changed planning rules to allow the European Union flag to be flown without permission. The coalition Government will make it easier for communities wanting to celebrate the contribution of our armed forces by easing rules on flying local regimental flags. Other local flags, and projects like environmental awards, could also all be freed up from existing bureaucratic restrictions.
Mr Pickles said:
If people want to celebrate something that is important to them by flying a flag they should be able to do so without having to fill in forms or paying town hall officials for the privilege. We will make it easier for people to celebrate their allegiance to a cause, a county or a local organisation if they choose to do so.
Mr Pickles also used his speech to warn against misplaced political correctness stopping flags being flown:
Local and national flags unite people of every creed, class and colour. Community cohesion is strengthened - not undermined - by flying the flag.
Over the past year, the Department for Communities and Local Government has been flying county flags as a means of championing England's diverse local identities. Mr Pickles will stress the important of England's historic counties which were wiped off the administrative map in previous local government restructuring exercises.
On Monday, the Middlesex flag will be flown from the Department to mark Middlesex Day - and acknowledge the continuing role and identity of England's long-standing counties. Mr Pickles said:
The historic English counties are one of the oldest forms of local government in Western Europe. Their roots run deep. And no amount of administrative reshuffling can delete those longstanding and cherished local identities…
Notes to editors
Currently the only flags allowed to be flown without consent are any country's national flag; the European Union; the United Nations; the flag of the Commonwealth; the flag of any English county; and the flag of a patron saint which can be displayed only in the county with which the saint is associated.
Other flags can be flown with deemed consent. These are a person or organisation's own flag or one advertising an event taking place in the building it is being flown from. These flags must be flown from a vertical flagpole on the roof of the building.
The department's approach is to extend the categories of flags that may be flown either without consent or with deemed consent. Any flags outside these categories will continue to be prohibited without express consent.
Flags are deemed to be advertisements and their display is therefore controlled by the Town and Country Planning (Control of Advertisements) (England) Regulations 2007 (SI 2007 No. 783). Certain flags can be flown without consent (see Schedule 1 Class H) and others can be flown with deemed consent (see Schedule 3 Class 7A). The difference is that deemed consent can be discontinued or restricted in certain circumstances.
Further information
Further information can be found online here:
Regulations
www.legislation.gov.uk/uksi/2007/783/contents/made (external link).
**DCLG Circular 03/07
** www.communities.gov.uk/publications/planningandbuilding/circulartown.
**Outdoor advertisements and signs
** www.communities.gov.uk/publications/planningandbuilding/outdooradvertisements.
Twitter
Keep up to date with the Department by following us on Twitter (external link).
Media enquiries
Visit our newsroom contacts page for media enquiry contact details.
Published 14 May 2011