Freedom pass' for tenants trapped in unsuitable homes
Housing Minister Grant Shapps has today put the eight million tenants in social housing in England firmly in control of where they live and …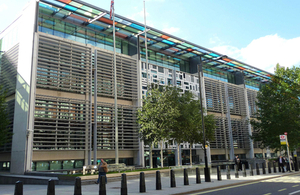 Housing Minister Grant Shapps has today put the eight million tenants in social housing in England firmly in control of where they live and their life opportunities, with a new 'freedom pass' to move home for work, to be closer to family or for any other reason.
The Minister has pledged to introduce a new National Affordable Home Swap Scheme. For the first time this will give tenants the chance to see details of every council and housing association tenant looking to exchange homes - not just in their area but across the country.
Tenants wanting to move can face an uphill battle, pitting themselves against the record numbers of families on social housing waiting lists. They see swapping homes as their only means of escaping properties that no longer meet their needs. Sometimes it can simply be in the wrong place for their job or prospective work or tenants might just need to move to support an elderly relative for example.
This has meant that in 2008, less than a quarter of new lettings were given to existing tenants - leaving others trapped in accommodation and unable to take up opportunities to improve their lives.
Current house-swap schemes are patchy in nature, but the National Home Swap Scheme will be open to all eight million tenants in social housing in England. The new comprehensive system will help to address the contradictory current situation where over a quarter-of-a-million households live in overcrowded accommodation while a further 430,000 households are unable to easily downsize from larger properties they no longer need. This means that the nation's stock of affordable homes are inefficiently used and means a loss of opportunity for tenants.
The Minister also announced that he will work with two London landlords to explore whether they can offer a new 'Right to Move' for tenants. The London Boroughs of Kensington and Chelsea and Hammersmith and Fulham will look at whether they can develop a scheme under which some of their tenants could ask their landlord to find them a home in the area they want to live.
But Mr Shapps also made clear that if he doesn't see improvements in help for tenants to move, he will take tough action to make it happen - including a 'Right to Move' for tenants in law.
Grant Shapps said:
Today I'm launching a 'Freedom Pass' for all eight million people in affordable housing in England. Social housing should provide more than a roof over people's heads - it should lift them out of poverty, and free them to take chances to improve the quality of their own lives. Instead, many tenants are left trapped in their own homes, while councils and housing associations turn their attention to record waiting lists.

This cannot continue - as we work to tackle the record budget deficit we must ensure vulnerable people benefit from, but don't become trapped by, the safety net that social housing provides.

That's why I'm putting tenants in the driving seat, with a new opportunity to see people like them looking to exchange social homes not just in their area but across the country, through a new National Home Swap Scheme.
This approach is backed by a new report commissioned by Mr Shapps in 2009 and published today by the National Housing Federation (NHF). Among its many recommendations on improving social housing mobility, the report concludes that many existing tenants do not apply for a transfer because they believe they will not be re-housed due to having a lack of priority in the allocation scheme.
Instead, the NHF report finds that tenants see mutual exchange as the only realistic option for those wanting to move who do not meet a priority category for social housing - and that a national home swap scheme would help tenants in this situation.
Notes to editors
1. The report by the Mobility Taskforce at the National Housing Federation, is published today and can be found at:
www.housing.org.uk/default.aspx?tabid=289&mid=2076&ctl=Details&ArticleID=317 (external link)
Any comments on this Freedom Pass for council and housing association tenants should be sent to mobility@communities.gsi.gov.uk.
Twitter
Keep up to date with the Department by following us on Twitter (external link).
Media enquiries
Visit our newsroom contacts page for media enquiry contact details.
Published 4 August 2010