Freedom of the City of Manchester for TA field hospital
Territorial Army medics from the North West of England have received the Freedom of the City of Manchester for their life-saving work in Afghanistan.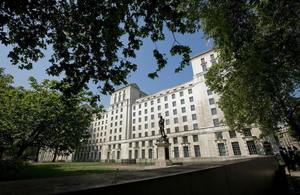 207 (Manchester) Field Hospital (Volunteers) marched into Albert Square in Manchester city centre led by the Lancashire Artillery Volunteer Band in the presence of the Deputy Lord Mayor of Manchester, Councillor Elaine Boyes, and the Lord-Lieutenant of Greater Manchester, Warren Smith.
They inspected the troops before calling on Sir Howard Bernstein, Manchester City Council Chief Executive, to confer the honorary Freedom of the City upon the Field Hospital.
The Deputy Lord Mayor commended the unit's medical skills which they utilised to treat not only British troops but also injured civilians while deployed on operations in Afghanistan:
So today we are recognising the outstanding service of the men and women who serve in this unit. We salute their courage, dedication and commitment to duty," said Councillor Boyes.
The medics then exercised their Freedom of the City by marching through Manchester, before joining the Lord Mayor for a reception at the Town Hall.
The Field Hospital was founded in 1885 when a Volunteer Medical Staff Corps was formed from professors and lecturers at Owens College (the predecessor of the University of Manchester) and from influential Manchester gentlemen.
207 (Manchester) Field Hospital (Volunteers) is one of eleven Territorial Army units whose role is to provide medical support to UK forces on operations overseas.
The Field Hospital ran the British military hospital in Iraq for part of 2004 and more recently staffed the British military hospital in Afghanistan, having completed a successful and rewarding four-month operational tour of duty on 31 January 2011.
Colonel Kerry Trow, the unit's Commanding Officer, said:
We are soldiers first, healthcare professionals second. To be honoured in this way is a huge privilege and a significant milestone for the unit.
Published 24 October 2011