Free pre-school education: Deputy prime minister hails a revolution
Nick Clegg announces a shake-up in the way free early education is delivered.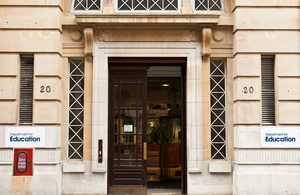 Two-year-olds to benefit from extended pre-school education offer early
The deputy prime minister is today hailing a transformation in free early education as he announces a shake-up of the way it is delivered. The changes include a huge boost for hundreds of 2-year-olds who will get access to free childcare earlier than originally billed.
At the moment, all 3- and 4-year-olds are eligible for 15 hours of free early education per week. 2-year-olds from the most disadvantaged backgrounds were due to start receiving free pre-school education from 2013, but the deputy prime minister wants to see the programme rolling out early from this September.
The deputy prime minister is announcing a series of new changes to childcare, including:
Early roll-out of free pre-school education for 2-year-olds in 10 areas - these areas will trial the entitlement, with just under 1,000 2-year-olds set to benefit from this September.
Greater flexibility for parents - the hours in which parents can bring in their children for their free place will be extended by two hours. Currently, parents are restricted by having to drop their children off no earlier than 8am and picking them up no later than 6pm. This will be extended to 7am - 7pm.
Giving parents the option to spread their free nursery place over two days rather than three. Under the current rules, hours have to be divided over a minimum of 3 days. This doesn't offer enough flexibility for parents who work part time, for example. Currently, many working parents are unable to take up all of the hours available to them because of this.
Revised statutory guidance making absolutely clear parents do not have to pay to access their child's free early education place - this follows concerns that some free nursery places are being made conditional on parents being able to make additional payments.
Currently, more than 800,000 3- and 4-year-olds nationally access up to 15 hours of free early education every week. The government is pledging to extend free childcare to around 150,000 of the least advantaged 2-year-olds from September 2013, rising to around 260,000 in September 2014.
Deputy Prime Minister Nick Clegg said:
We're revolutionising the early start our children get in life - there will be more free childcare, it will be higher quality, and it will be more flexible for parents.
By getting things right from the off we're making sure our youngsters are ready to learn when they start school so that they get the most out of their education. Every child should have a fair crack at the whip from the start and be able to go on to fulfil their potential.
New figures published today set out the number of two-year-old children eligible from 2013 in all 152 local authority areas, with a total of around 150,000 set to benefit. The figures will help local authorities prepare for the expansion of free places. It was also confirmed that money to fund free early education will be included within the ring-fenced Dedicated Schools Grant from April 2013, so that nurseries, pre-schools and childminders can be confident that, if they expand to offer these new places, the funding will be available. The additional amount invested on early education by the government will have risen by more than £1 billion a year.
Later this morning (Wednesday 30 May), Deputy Prime Minister and Children's Minister Sarah Teather will hold a summit with some of the country's biggest childcare providers to discuss how best to deliver the extension for 2-year-olds.
Sarah Teather, Children's Minister, said:
High quality early education is the key to making a difference early on in a child's life. All the evidence shows how important it is for their development.
The challenge now is to make sure the least advantaged 2-year-olds are able to access their early education entitlement. Too often, the most disadvantaged children don't get what they are entitled to. It's important we now work with councils, nurseries and childminders to target free early education at those who stand to benefit the most.
I am determined that the Coalition government will do all it can to make sure the poorest 2-year-olds and their families can reap the benefits from our investment around the country.
Notes to editors
The announcements follow a consultation by the government on how early education is delivered.

The 10 areas to trial the entitlement to free early education in part of their area from September this year. The areas are Blackpool, Cornwall, Greenwich, Kent, Lambeth, Lancashire, Newcastle, Northamptonshire, Peterborough and Rotherham.

Currently, 95% of 3- and 4-year-olds access 15 hours of free early education every week - more than 800,000 children nationally. The government set out how it will now extend this entitlement to the 20% least advantaged 2-year-olds. This means around 150,000 children will benefit in phase 1 from September 2013. From September 2014 this will rise to around 260,000 2-year-olds.

Revised figures are published estimating the number of 2-year-old children who are eligible for free early education from 2013 in all 152 local authority areas.
DfE media enquiries
Central newsdesk - for journalists 020 7783 8300
Published 30 May 2012