News story
Free online Standard Reports for Price Paid Data
We've launched a new tool that offers open data on prices paid for properties sold in England and Wales.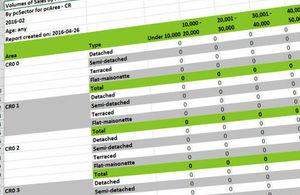 From today, you can create bespoke aggregated house price reports using our free online Standard Report tool.
This online tool enables statistical analysis of geographical areas in England and Wales, from country level down to postcode sectors.
With more than 24 million definitive records of residential property sales registered since 1 January 1995, you can create and download reports in Excel or CSV format. You can bookmark the 'reports files' page, so an updated version of the report can be run each month.
This new online Standard Report replaces the chargeable service we previously offered to customers. From today that service has been withdrawn.
For more information regarding the online tool, read our price paid data standard reports or email commercial.services@landregistry.gov.uk or call on 0300 006 0478.
Published 3 May 2016