Press release
Free flood warnings to be offered to EE mobile customers in Devon and Cornwall
Environment Agency teams up with digital communications company EE to send flood warnings to mobile phone users in Devon and Cornwall.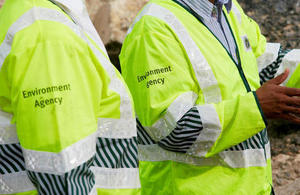 From Tuesday 14 July 2015, EE customers registered in flood risk areas in Devon and Cornwall will receive messages from the Environment Agency's Floodline Warnings Direct service, giving people valuable time to prepare. The scheme is the first of its kind in England and follows a successful pilot in Staffordshire in March this year.
Since 2010, the Floodline Warnings Direct service has enabled the Environment Agency to automatically register and send warnings to 600,000 home and business landline numbers, but this will be the first time that flood warnings will be issued directly through a mobile phone provider.
Jason Rees, EE's Director of New Business, said:
This new service clearly demonstrates the positive contribution that mobile technology makes to our everyday lives. The Floodline Warnings Direct service offers our customers a free and essential service.
Craig Woolhouse, Flood Risk Manager at the Environment Agency, said:
We want to ensure that everyone has as much time as possible to prepare for flooding and by working with EE we're now able to warn even more people about the risks. Flood warnings save lives and this ground-breaking initiative is another way of raising awareness of flood risk.
ENDS
Notes to Editors:
From Tuesday 14 July EE customers living in flood risk areas in Devon and Cornwall will be informed that they are registered and will receive free warnings. They will also be given details of where to find further information and how to opt out if they wish to.
Anyone that wants to check their flood risk and register for free flood warnings can sign up online at www.gov.uk/flood or by calling Floodline on 0345 988 1188.
Warnings are issued by phone, text or email through the Floodline Warnings Direct service to members of the public and businesses in areas at risk of flooding from rivers or the sea.
Published 14 July 2015