Free early education: government sets out which 2-year-olds will be eligible
Details of how disadvantaged children will be entitled to an extra year's education, without having to pay for it.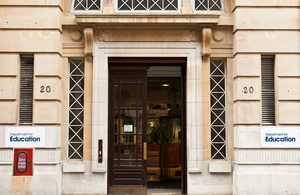 Thousands of disadvantaged 2-year-olds, and those living in care, stand to benefit from an extra year of free early education, under government plans announced today.
In October 2010, the Government announced, as part of the Fairness Premium, that it will extend the free entitlement of 15 hours per week - available to every three and four year old - to all disadvantaged two year olds. Plans, to be consulted on this autumn, will propose that the criteria for measuring disadvantage should match the criteria used to assess free school meals eligibility.
The Government also wants local authorities to provide free early education for all two year olds who are looked after by the state. In total, approximately 140,000 two year olds each year will be able to benefit from an extra year of free early education from 2013.
Children's Minister Sarah Teather said:
Early education and childcare is crucial to a child's development, giving them the opportunity to learn, thrive and play. But far too many children, many from disadvantaged backgrounds, are starting primary school without the skills they need to do well. Evidence shows that attainment gaps can open up as early as 22 months and persist through school.

If we are to tackle this attainment gap and reduce social inequalities, it's vital we get children from the poorest backgrounds, including those in care, into high quality early education. Today's announcement is a real step forward and will give the most disadvantaged children access to high quality early education at a younger age.
Under the plans, £331m will be available to local authorities in 2013-14 to fund places for two year olds. The Government wants local authorities to consider giving places to other two year olds who may get particular benefit - especially children with special educational needs and disabilities.
The most recent statistics show that fewer than half of all children who live in the most deprived areas achieve a good level of development at age five, compared with nearly 70 per cent of those living in the least deprived areas. Children who have access to high quality early education are more likely to start school ready and able to learn, with the skills they need to succeed.
The Government will be consulting on these plans in the autumn. The Department welcomes views from early education professionals, local authorities and parents about what they think would be best for disadvantaged two year olds.
Notes to editors
Provisions to extend the free entitlement to disadvantaged two year olds are currently passing through the House of Lords in the Education Bill. It is planned that the new entitlement for disadvantaged two year olds will come into force from September 2013.

Looked after children are those who, under the Children Act 1989 are voluntarily accommodated or under a care order. Local authorities are responsible for planning how to meet the care and education needs of the children they look after and decisions about early education places will be part of that planning.

The Government will consult formally from October on changes to the Code of Practice for the free entitlement for three and four year olds, and on which children should benefit from the new entitlement for two year olds. The revised Code of Practice will come into force from September 2012.

The most recent statistics on the Early Years Foundation Stage Profile (assessment at age five) are available on the statistics section of our website.
DfE enquiries
Central newsdesk - for journalists 020 7783 8300
General enquiries - for members of the public 0370 000 2288
Published 19 September 2011