Free coaching sessions aim to get people back into angling
Former fishermen in Northamptonshire are being invited to attend free coaching sessions which aim to get them back behind a rod this summer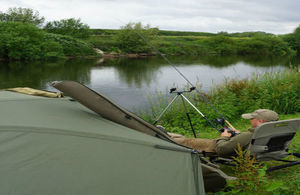 Those who sign up for a 'Get back into angling' session will get four hours of free coaching from angling experts to give them the skills and confidence to start fishing again.
The sessions, which have been organised by the Angling Trust, are being held at Manvell Farm Tearoom & Fisheries, Kettering Road, Walgrave, every Thursday between 10am and 2pm.The sessions will be running weekly throughout the summer until September.
The Angling Trust will provide free bait and tackle, but you will need a rod licence to take part.
A rod licence covering coarse fishing and non-migratory trout costs £27. If you fancy fishing for salmon and sea trout then a licence will cost £72. Junior and concession options are also available. Fishing without a valid licence could land you with a fine of up to £2,500 and a criminal record.
All the money from rod licence sales goes back into maintaining the health of fisheries and waters, angling projects and much more.
Licences are now available from the Environment Agency online.
James Roche, Angling Trust Senior Regional Officer, said:
Get back into angling is a fantastic opportunity for anyone who might have stopped fishing to come back to the sport. We know that sometimes life-events take over and make finding the time for angling tricky.
The licensed coaches running these sessions will provide info about the latest tackle and where to go next – a real confidence booster so that participants will be ready to get back into angling immediately.
Lots more opportunities to get back into angling can be found on the Angling Trust's Facebook events page, as well as on the Angling Trust's eight new regional Facebook pages.
Contact james.roche@anglingtrust.net for more info or to let him know about angling participation events run by clubs, coaches or fisheries near you.
ENDS
Please note: Our telephone numbers for media enquiries has changed:
Media enquiries: For enquiries about Lincolnshire and Northamptonshire 24/7, call 0800 917 9265. For any other part of the country, please call 03708 506 506, Monday to Friday, 9am – 5pm. Your call will be answered by our national call centre and transferred to the appropriate area.
All Environment Agency news releases, both regional and national, can be found under Announcements at www.gov.uk/government/organisations/environment-agency
Notes for editors
The Environment Agency is the leading organisation for protecting and improving the environment in England. We are responsible for making sure that air, land and water are looked after by today's society, so that tomorrow's generations inherit a cleaner, healthier world.
Published 13 May 2016