News story
Francis Maude's visit to Jordan
Francis Maude attends the World Economic Forum during his visit to Jordan.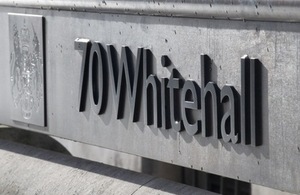 Minister for the Cabinet Office Francis Maude arrived in Jordan yesterday (24 May) for a 3-day visit. While in the country, he will hold talks with Jordanian government ministers and will participate in a panel discussion at a foreign policy outlook session of the World Economic Forum.
A Cabinet Office spokesman said:
Francis Maude is visiting Jordan to attend the World Economic Forum, where he will discuss issues including how we can bolster security and enhance international collaboration in the region. The United Kingdom and Jordan have a strong relationship and we are keen to build on that.

The United Kingdom is currently lead co-chair of the Open Government Partnership (OGP). Jordan has been involved since the OGP's launch in September 2011 and remains the sole Arab participant.

Both Jordan and the United Kingdom are committed to greater transparency. We recognise the benefits it can bring in accountability, choice, economic growth and citizen engagement. This visit will give us the opportunity to learn about each other's experiences and to further understand how open government can drive reform across the world.
Published 25 May 2013