Francis Maude visits Liverpool to see Civil Service successes
Francis Maude and Stephen Kelly visited Liverpool to see MyCSP Ltd and the Government Procurement Service.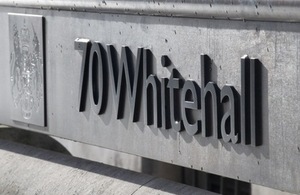 11 October 2012
CAB 108-12    
The Minister for the Cabinet Office, Francis Maude, and the Chief Operating Officer for Government, Stephen Kelly, today visited Liverpool to see two examples of Civil Service successes: MyCSP Ltd, the first central Government mutual joint venture and Government Procurement Service, which has significantly changed the way Government spends money on goods and services.
MyCSP Ltd administers the Civil Service pension scheme, and has today opened its first training facility for the public sector, which will be based in Liverpool.  It span out of the public sector in April this year to become a business of which the employees own a 25% stake, giving them representation at board level and a share in profits. As a result of new freedom to develop its services, its new training service will improve understanding of pensions among Civil Service Pension scheme members and employers.
This new training facility in Liverpool was today opened by the Minister for the Cabinet Office Francis Maude. It will cover a range of subjects including courses on pension reform, auto-enrolment and other legislative changes.  The service, which will soon be available in sites across the UK, has already received a high level of interest from both employees and employers. 
Francis Maude, Chief Operating Officer Stephen Kelly, and Chief Procurement Officer Bill Crothers also visited Government Procurement Service, which has offices  in Liverpool, and has a key role in changing the way Government buys goods and services. By creating single commercial agreements for common areas of spend, like travel and office solutions, it is delivering significant savings for the taxpayer.
Minister for the Cabinet Office Francis Maude said:
Today I saw first-hand how MyCSP's service is growing to help Civil Service pension scheme members better understand the pensions they have. Its success sends a clear signal that mutuals, where employees have a significant say in how the business is run, can deliver a better, more efficient service for their customers.

I also saw an example of the Civil Service at its best during my visit to GPS which is at the heart of the reforms we have made to government procurement. Since 2010 we have made impressive progress in changing the way government buys common goods and services, particularly in areas like travel, office solutions and energy.
Key achievements for GPS from the last year include the delivery of new systems, such as Spend Analytics, which pull in detailed Accounts Payable data from across Government departments to allow government to better analyse our spend data and identify further savings to ensure best value for the taxpayer.
Notes to editors
MyCSP Ltd's innovative Mutual Joint Venture model gives employees a 25% ownership stake, representation at board level and a share in profits.
It ends the binary choice between private and state provision. The Equiniti Group's Paymaster business has a 40% stake, and the Government has retained a 35% stake so taxpayers benefit as the business grows in value.
MyCSP Ltd was awarded the contract on 1 May 2012 to administer the Principal Civil Service Pension Scheme for seven years, with an option to extend for a further three years, after which the contract will be retendered.
MyCSP Ltd employs nearly 500 people based in Cheadle Hulme, Liverpool, Newcastle, Worthing, Basingstoke and Leeds.
About £1 billion of health services are provided by mutuals. Evidence suggests that employee ownership can boost productivity by up to 19%. John Lewis, one of Britain's best known mutuals, continually tops customer satisfaction polls and has half the average staff turnover and sickness absence of the retail sector. The Government is supporting public servants who want to form mutuals with a £10million Mutuals Support Programme and Mutuals Information Service http://mutuals.cabinetoffice.gov.uk and hotline 0845 5390543. 
Published 11 October 2012