Press release
Francis Maude chairs first UK meeting of the Open Government Partnership
The Open Government Partnership's Ministerial Steering Committee has confirmed the appointments of advisers.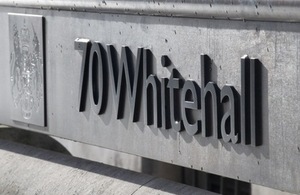 6 December 2012
The first meeting in the UK of the Open Government Partnership's Ministerial Steering Committee has confirmed the appointment of former Irish President Mary Robinson, Sudanese-born British entrepreneur and open government campaigner Mo Ibrahim, and Mozambican politician Graça Machel to advise the OGP. 
The UK is the lead co-chair of the OGP, a growing multilateral initiative that aims to secure concrete commitments from governments to promote transparency, fight corruption, and harness new technologies to strengthen governance.
At its meeting in London on 4 December, chaired by Cabinet Office Minister Francis Maude, the OGP formally introduced the Independent Reporting Mechanism (IRM), which will rigorously monitor the progress of participating countries against their transparency action plans, and announced the three high-profile figures who will sit on an International Expert Panel to oversee the work of the IRM.
Francis Maude said:
The Open Government Partnership is all about using transparency to drive sharper accountability and greater prosperity. That's why the launch of the Independent Reporting Mechanism, backed by civil society and the media, is so important. It will help ensure that Partnership members actually deliver the transparency commitments they have made. The media here in Britain and internationally has a key role to play in holding the feet of government officials and ministers to the fire.

It is a tribute to the growing importance of the OGP as an international force for change that three such distinguished and experienced figures are joining the Expert Panel.
The Open Government Partnership was formally launched in September 2011 by the eight founding governments (the United Kingdom, Brazil, Indonesia - current co-chair with the UK - Mexico, Norway, Philippines, South Africa, and the United States). In just over a year, the OGP has grown to a membership of 58 countries, covering nearly a third of the world population.
Watch interviews with Francis Maude and Mo Ibrahim conducted at the OGP's London meeting.
Published 6 December 2012