Foxhound arrives in Afghanistan
The first of the British Army's new Foxhound vehicles have arrived in Afghanistan.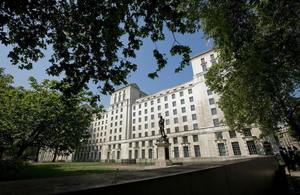 Foxhound is at the cutting edge of protected patrol vehicle technology and provides unprecedented levels of blast protection for its size and weight.
After being flown out from RAF Brize Norton in a C-17 aircraft, these patrol vehicles are currently undergoing final testing in the dusty and hot conditions of the Helmand desert before being deployed on operations later in the year.
Foxhound has been specifically designed and built in Britain to protect against the threats our troops face in Afghanistan. However, this is an agile and versatile vehicle that will be a mainstay in the Army for years to come.
See Related Links for video footage of the Foxhound light protected patrol vehicles during trials in the UK and arriving at Camp Bastion.
Being lighter and smaller than other protected vehicles such as Mastiff and Ridgback, Foxhound brings a whole new capability to the Army and is ideal for soldiers operating in mentoring and partnering roles as it makes it easier for them to engage with Afghan National Security Forces and the local Afghan population.
General Dynamics Land Systems: Force Protection Europe (GDLS:FPE), who produce Foxhound, have worked with engineers from the World Rally Championship, McLaren F1, Ricardo and BMW to incorporate Formula One racing technology so it has a top speed of 70mph (113km/h), but can still protect against improvised explosive devices thanks to its v-shaped hull.
The MOD is also able to confirm today that a £90m contract for an additional 100 Foxhounds has been signed. It means a total of 300 vehicles will now be delivered to the Army as part of a deal with GDLS:FPE worth £270m that is sustaining around 750 highly-skilled jobs across the UK.
Other innovative design features mean that the Foxhound's engine can be removed and replaced in just 30 minutes and it can drive away from an ambush on only three wheels.
Defence Secretary Philip Hammond said:
Foxhound's arrival in Afghanistan is great news for our soldiers. This Government has spent £270m on 300 of these hi-tech, British-built vehicles to help keep our troops properly protected. Our servicemen and women deserve the best protection we can get them.
Chief of the General Staff, General Sir Peter Wall, said:
Foxhound gives the British Army the very latest level of protection on operations. This has been a well-run programme that will play a key role in equipping the Army of 2020.
Published 17 June 2012