Fox and Hague respond to Iranian weapons seizure in Afghanistan
Defence Secretary Dr Liam Fox and Foreign Secretary William Hague have issued statements following media reporting that Iranian-made weapons destined for the Taliban have been seized by UK Special Forces.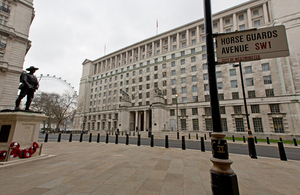 A MOD spokesman said:
The MOD has not confirmed the involvement or otherwise of UK Special Forces (SF). We do not normally comment on SF matters and we can see no reason to change that policy on this occasion.
NATO has confirmed that weapons seized in a recent operation by Afghan and ISAF forces in Nimruz were supplied by elements within the Iranian regime and were destined for the Taliban.
Dr Fox said:
This confirms my often repeated view of the dangers that Iran poses not only through its nuclear programme but its continuing policy of destabilising its neighbours.
Supplying weapons to help the Taliban kill ISAF soldiers is a clear example of the threat they pose.
Mr Hague said:
I am extremely concerned by the latest evidence that Iran continues to supply the Taliban with weaponry - weapons clearly intended to provide the Taliban with the capability to kill Afghan and ISAF soldiers from significant range.
The detailed technical analysis, together with the circumstances of the seizure, leave us in no doubt that the weaponry recovered came from Iran.
This is completely unacceptable. It is not the behaviour of a responsible neighbour. It is at odds with Iran's claim to the international community and to its own people that it supports stability and security in Afghanistan.
My Ambassador in Tehran raised this with the Iranian MFA [Ministry of Foreign Affairs] earlier today. I call on Iran to act in the interests of a stable and secure region.
Published 10 March 2011