World news story
Fourth launch of Holocaust Survivors' Club in Kiryat Bialik
British Ambassador to Israel and his wife Celia launched fourth Holocaust Survivors Club in Kiryat BIalik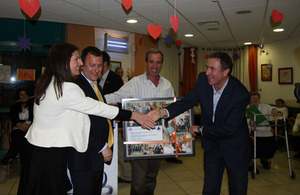 The British Ambassador to Israel Matthew Gould and his wife Celia celebrated the official launch of the fourth out of seven Café Britannia Holocaust survivors Club in Kiryat Bialik today. The club was established in Tzur Shalom neighbourhood where a large number of Holocaust survivors live. The club serves the residents of the neighbourhood as well as survivors from the greater area of city.
The Café Britannia club launch was made possible due to collaboration between the municipality and Mayor Eli Dukorsky that identified a growing need for setting up a social constellation for Holocaust Survivors, the Foundation for the Benefit of Holocaust Victims in Israel and generous donation from the UK Jewish community.
Café Britannia in Kiryat Bialik has been operating since April of last year and serves a community of 90 Holocaust survivors, the majority of them are Russians who immigrated to Israel after the collapse of the Soviet Union. The club offers them an opportunity to socialize with other community members and take part in occupational activities in the mornings and afternoons, such as: arts and crafts, courses, tours, birthday parties and celebrations of Jewish national holidays; All the activities have been adjusted to fit the elderly community.
Ambassador Gould opened his speech in Hebrew and continued in English to say:
My wife Celia and I are thrilled to be here with you. We came to Israel just over two years ago, and when we came we knew we wanted to do something for the survivors. Because we thought it is incredibly important that you will be treated with full respect, you should be able to live in the comfort that you deserve, and that we, the people in the world and epically Jewish people owe you a particular debt of gratitude.
Mayor Dukorsky added a few words of appreciation to the club members:
Dear club participants, we are delighted to see you as you arrive each day with great pleasure and enjoy the different activities. Your active participation and the increasing number are the sign and concrete proof of the success of the project.
Published 3 February 2013