World news story
Four Guatemalan students receive prestigious Chevening scholarships to pursue Masters Degrees in the United Kingdom
This year four Guatemalan students were awarded a Chevening Scholarship.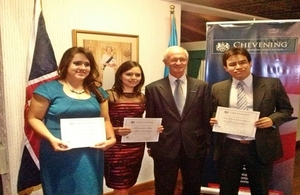 Chevening Scholarships, which is globally recognized as the UK government's official programme that seeks to enroll exceptional individuals and support the next generation of leaders.
The candidates went through a rigorous selection process and were awarded scholarships to study a Masters degree for a year in the United Kingdom. All of them will receive full scholarships that include travel costs, a monthly stipend, and academic fees.
Chevening Scholarships are funded by the Foreign and Commonwealth Office and partner organisations. Chevening Scholars come from 118 countries worldwide, including Guatemala.
Each scholarship winner will receive a scholarship of around £20,000. The 2015 recipients are:
Astrid Arriaza (Demography at the University of Southampton)
Monica Rivera (Ecological Economics at the University of Edinburgh)
Ximena Matus (Service Design Innovation at Ravensbourne)
Edgar Obregon (Project Management at the University of Southampton)
To mark the event Thomas Carter, British Ambassador to Guatemala, said:
"I would like to congratulate the four winners on their scholarships. The Chevening programme has a rich history and is one of the most prestigious scholarships in the world. Their experience in the United Kingdom will expose them to the highest standards of education and to a rich and diverse cultural experience. Upon their return, I'm sure they'll make outstanding contributions to the future development of Guatemala. I wish them the very best of luck."
The process for applying for Chevening Scholarships for the academic year 2016/2017 is now open for Guatemala. Please visit this web page to get all the details.
Published 4 September 2015