Press release
Four fishermen plucked from liferaft after boat sinks
Fishermen rescued after sinking of vessel the 'Rachel Jayne III'.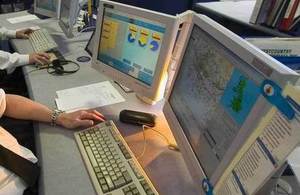 Four fishermen were rescued from a liferaft by the RAF rescue helicopter based at RAF Boulmer after their 18 metre fishing vessel 'Rachel Jayne III' began to sink.
At just before 5pm the fishing vessel 'Kiroan' contacted Humber Maritime Rescue Coordination Centre to say that they had heard the fishing vessel 'Rachel Jayne III' make a Mayday broadcast. The 'Rachel Jayne' had said that she was taking on water and sinking 26 miles East North East of the Tynemouth Piers. The crew were also reported to be abandoning the vessel to their liferaft.
Humber Coastguard immediately sent the RAF rescue helicopter based at RAF Boulmer and the RNLI lifeboat based at Tynemouth to the scene. They also broadcast a Mayday alert message to vessels in the area requesting them to head for the scene. A large number of fishing vessels and commercial ships responded and headed towards the 'Rachel Jayne III'.
The 4 crew were winched from the liferaft to the helicopter and taken to the Wansbeck Hospital where they were met by the Newbiggin Coastguard Rescue Team and are receiving medical attention.
Mike Puplett Humber Coastguard Watch Manager said:
The Rachel Jayne III was listing badly when the crew took to the liferaft, and has since sunk. This was a well-known Maryport registered prawn fishing boat with an experienced crew. This evening's incident just goes to show that you should always be prepared for the unexpected.
Maritime and Coastguard Agency press office
Press enquiries 020381 72222 (Monday to Friday, 9am-5pm)
Outside these hours, for emergency press enquiries only please dial the above number. You will hear a message giving an out of hours pager number.
Published 18 January 2014