Former Army Chef keeps troops safe from her Apache
Helicopter pilot Captain Joanna Gordon, who began her Army career as a caterer, has just returned from her second tour of Afghanistan where she supported operations from the cockpit of an Apache.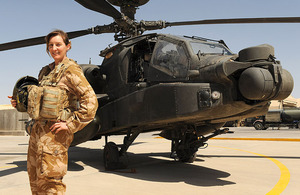 Captain 'Jo' Gordon, a 39-year-old officer in the Army Air Corps, flies the most sophisticated piece of kit in the Army's arsenal, but began her career in the modest kitchen of her father's local pub in Devon where she learnt to cook.
She joined the Army Catering Corps - now part of the Royal Logistic Corps - at the age of 17:
The Army was a natural choice for me as I got to learn more about cooking, which I love, and I got to travel at the same time," she said.
It was while catering for the Army Air Corps (AAC) in Bosnia that Capt Gordon found a new passion:
I was watching two Lynx [helicopters] flying low level at night up the estuary on the coast of Croatia - their strobe lights flashing," she said. "I had this gut-wrenching feeling that that was what I wanted to do above anything else - I wanted to fly.
She applied for a transfer to the AAC and passed a rigorous period of training and testing before commencing her 18 month pilot training.
After five years of flying Gazelle helicopters, which included a tour in Northern Ireland, she set her sights on the Apache:
I just really wanted to get my teeth into something," she explained. "Apaches are high-tech and complicated and my goal was to master flying them in order to be able to instruct another generation of pilots.

The Apache training is in two phases," she continued. "Only when you have mastered the raw flying of it can you think about its fighting capabilities.
Capt Gordon qualified as a fighter pilot in 2008 and immediately deployed to Afghanistan for the first time. She explained the Apache's role in theatre:
We go out with the other support aircraft to various patrol bases as an escort while they re-supply the ground troops with ammunition, water, rations and post.
"If we are on High Alert we have to be ready to support anyone who needs us. We just sit by the phone and wait. > > If we get a call out, it is either for troops needing Apache help in a fire fight or a casualty in which case we would be supporting the medical teams in Chinooks carrying out a casualty evacuation. > > It is our job to keep the ground troops and the locals safe from insurgents.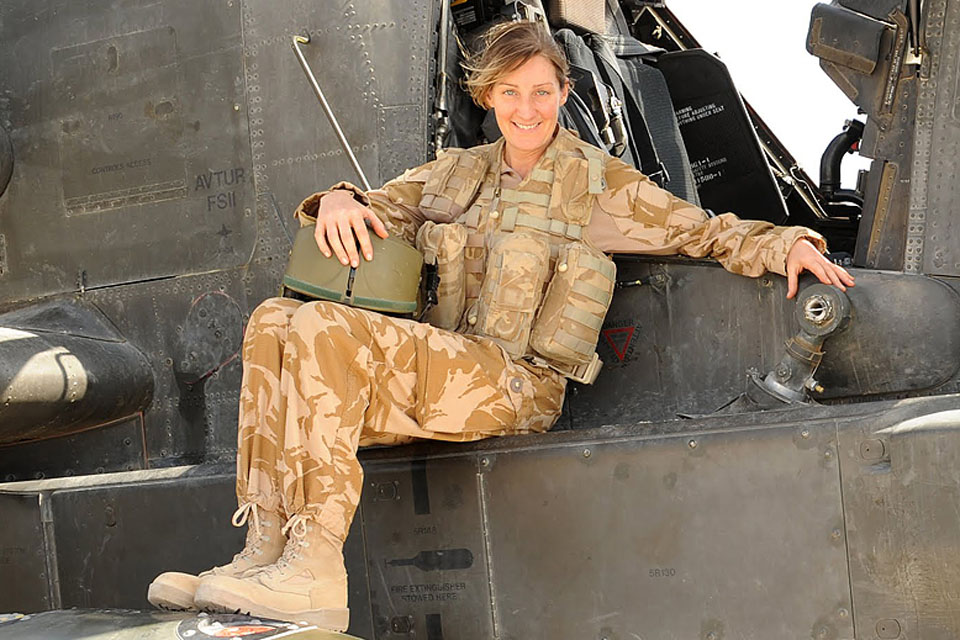 In many cases the mere sight of the formidable Apache at the scene of a contact is enough to see the enemy make a quick and quiet retreat.
Capt Gordon considers this ability to quickly defuse deadly engagements with the enemy to be consistent with ISAF's policy of 'courageous restraint' which aims to minimise collateral damage and regain the trust of the local population.
During her last deployment, Capt Gordon was the only female Apache pilot in theatre. She says, in her experience, there are no drawbacks to being a woman on the front line:
I don't want it to sound like a cliche but I am treated like one of the boys," she said.
"I hear a lot of army girls say that but it is true. Most of the time I don't think they realise I am any different and neither do I.
"I am simply someone who followed a dream and am now just another member of the team, with my role to play out here just like anyone else."
Capt Gordon said that her parents sometimes find it difficult to comprehend their daughter as an Apache pilot, but that they are "bursting with pride":
It's funny because my parents - they know what I do but when I at home they see me out of work and still as their little girl.
"I talk about my work and they nod and my dad is very interested in what I do but when I bring them to see the Apache or when they come and visit the unit I can see it in their faces they are thinking 'My daughter actually flies these!'"
Capt Gordon's boyfriend, Jason, has just left the Army after 22 years and was also an Apache pilot:
I am very lucky to have someone who understands what I do as opposed to the other guys who have supportive wives but who don't completely understand what it's really like [on operation] and how dusty it is!

[Jason] puts things into perspective for me because he has literally been there too.

The day I deployed he left to work in Milan as a flying instructor. It was funny as I left with two black grips and in desert combats while he was in the car with mountain bikes, golf clubs and suitcases. It was a funny role reversal!
Capt Gordon said that she sometimes misses female company and thinks it is important to get more women to consider the Army Air Corps.
With the right level of conviction, she thinks more women are capable of achieving this:
The Apache is very complex and can be quite daunting at first. The girls just need self-belief, confidence, application and skill as well as being a fast learner and quick thinker.
For Capt Gordon, the most rewarding part of her job is hearing the thanks that pours into her headset at the end of a call out:
You can hear gratitude in their voices and you feel so, so proud to have been able to help when needed," she said.
In spite of this, she remains modest about her role:
I would never call myself brave," she said. "The guys on the ground are the brave ones - we just do whatever we can to support and keep them alive. I am just another body in another vehicle; it just so happens that I am a woman and I am in the air.
See related links to see Captain Joanna Gordon talk about her life as an Apache pilot in Afghanistan from the Joint Media Operations Centre, based at Camp Bastion in Helmand, Afghanistan.
Published 17 June 2010