Press release
Formed Intelligence: introducing Made In Ratio
UK Trade & Investment promotes the British company's debut collection at the International Furniture Exhibition in Milan.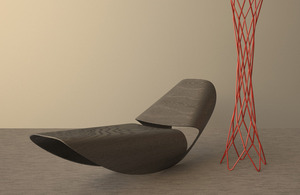 The British Consulate-General in Milan and UK Trade & Investment (UKTI) will be hosting the launch of British company Made in Ratio in Italy during the Salone del Mobile. This new London-based design company, who are getting support from UKTI to help them enter into the Italian market, will debut at the Salone with a collection of furniture and lighting. The Press Preview will take place on Tuesday 9 April from 10:00 to 13:00.
The Launch Collection, comprising designs in lighting, seating, tables and storage, offers an excellent example of the latest in UK design innovation. The individual pieces have multiple applications, and are all underpinned by the ideas of movement and modularity. The Supernova trestle, for example, can be used in two different orientations and be configured as a coffee table, desk or dining table.
Launching at the Zonca & Zonca Gallery, located at the centre of the Brera design district, the Made in Ratio exhibition is being set up with the help of the UKTI team in Milan and will comprise of a series of installations, designed to showcase the qualities of each piece.
The company's creative director, Neill Brodie said:
The designs re-think the production process. Invariably, the rigours of this challenge make the end result infinitely more interesting, I have designed flexibility and versatility into the whole range,
The idea is that these designs will become the cornerstones of future collections, Going forward, each collection will build on this, commissioning bright international design talent and allying them with peerless makers. We're aiming to deliver thoughtful, quality design unencumbered by industry conventions.
For example, the Cumulus light shade can be configured as a floor, table, ceiling, bedside and pendant light, illustrating its flexibility. Drawing upon the inherent qualities of a classic material, the Cowrie Rocker and Cowrie Chair, takes its shape from a single piece of plywood curved to a monocoque form.
Exhibition details
Zonca & Zonca Gallery, Via Ciovasso, 4, Milan 20121
Opening Hours: Monday 8 April: 18.00-21.00
Tuesday 9 April: 10.00-18.00 (Press Preview: 10.00-13.00)
Wednesday 10 - Saturday 13 April: 10.00-20.00
Sunday 14 April: 12.00-16.00
Contacts
UK Trade & Investment
British Consulate-General
Via San Paolo 7 – 20121 Milan
[UKTI website](http://www.ukti.gov.uk)
Twitter: [@UKTIITALIA](https://twitter.com/UKTIItaly) & [@UKTIITALY](https://twitter.com/UKTIItalia)
LinkedIn]: [UKTI-italy](http://www.linkedin.com/pub/ukti-italy/59/ab2/a13)

UKTI Press Office
Raffaella Previtera
Head of Communications Team
Tel. +39 02 72300 253/251/249
Email: [communicationsmilan@fco.gov.uk](mailto: communicationsmilan@fco.gov.uk)

UKTI Commercial Office
Marina Iremonger
Head of Fashion&Design Unit
Tel. +39 02 72300 257/216
Email: [milancommercialenquiries@fco.gov.uk](mailto: milancommercialenquiries@fco.gov.uk )

MADE IN RATIO
Theo Theodorou
2 Sycamore Street
London EC1Y 0SF
Tel: +44 (0) 207 490 8601
Emails:

* [info@madeinratio.com](mailto: info@madeinratio.com)
* [theo@madeinratio.com](mailto: theo@madeinratio.com])
* [theo@brodieneill.com](mailto: heo@brodieneill.com)

####London Press Office
Email: [talib@announcementcreative.com](mailto: talib@announcementcreative.com)
[Website](http://www.madeinratio.com)
Twitter: [@MadeInRatio](https://https://twitter.com/MadeInRatio)

Notes to editors
Australian-born Brodie Neill honed his design skills at the University of Tasmania and the Rhode Island School of Design. After a successful stint working for top brands in New York, Brodie established a studio in London's East End, applying his fluid design signature to a range of objects such as the '@ Chair' that was selected by Time Magazine for 'The Design 100, The people and ideas behind today's most influential design'.
Brodie has worked with an impressive roster of international clients including Kundalini, Swarovski and Alexander McQueen and his limited edition works are included a number of private collections. He co-founded Made in Ratio in late 2012 along with Theo Theodorou, formerly with Haunch of Venison Gallery and Droog.
UKTI is the Government Department that helps UK-based companies succeed in the global economy. We also help overseas companies bring their high-quality investment to the UK's dynamic economy acknowledged as Europe's best place from which to succeed in global business.
UK Trade & Investment offers expertise and contacts through its extensive network of specialists in the UK, and in British embassies and other diplomatic offices around the world. We provide companies with the tools they require to be competitive on the world stage.
For further information please visit UKTI website
Published 20 March 2013