Forestry advisory panel membership announced
Members of an independent panel of experts that will make recommendations on forestry policy for England have been announced today by Environment Secretary Caroline Spelman.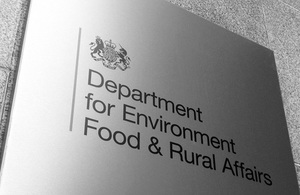 The panel, to be chaired by the Right Reverend James Jones, Bishop of Liverpool, brings together a wide range of interests and expertise covering the environmental, social and economic aspects of forestry. They will advise government on a new approach to forestry policy in England, including looking at how woodland cover can be increased and at options for enhancing public benefits from all woodlands and forests.
Announcing the panel members, Caroline Spelman said:
"Our forests are a great part of our heritage and essential for our way of life, providing clean air and water, homes for wildlife and a natural way of countering the effects of climate change. But they also offer economic benefits through tourism, recreation and providing timber for fuel and buildings. This independent panel of experts will advise us on what we need to do to give forests the right protection so they continue to be a place that people can enjoy for hundreds of years to come.
"I would like to thank Bishop James for agreeing to lead this important piece of work and all the panel members for giving their time and expertise to advise us on the future direction of forestry policy in England. I look forward to seeing their recommendations."
The panel chair and its members will be looking at the complete picture of forestry in England and will have the freedom to decide how best to gather evidence to make its recommendations. Although the panel members are not representing their organisations in an official capacity, they bring with them a wealth of experience and expertise in a range of areas that are important to consider in the future direction of forestry policy.
The Right Reverend James Jones, Bishop of Liverpool, said:
"I am honoured to accept the Secretary of State's invitation to chair the panel and I am confident that the independent panel will be able to provide her with sound advice about the future direction of forestry policy. It's clear that the public care passionately about our forests and woodlands, and one of the panel's very first tasks will be to meet with the grassroots campaigners who recently showed how much they valued their local woodlands.
"The panel will approach its task with professionalism and thoroughness, and the public can have confidence that we will be robustly independent. We have a wide range of expertise on the panel and we will also look to bring in experts from other areas to help achieve the maximum benefits from our forests including public access, wildlife, conservation and sustainability."
The panel will make its recommendations to the Secretary of State in the Autumn.
Notes to editors
Caroline Spelman announced that an independent panel to provide advice on forestry would be created on 17 February 2011.
The full membership of the panel is as follows: Right Reverend James Jones, Bishop of Liverpool (Chair); Shireen Chambers (Institute of Chartered Foresters Executive Director); Mike Clarke (RSPB Chief Executive); Tom Franklin (Ramblers Association Chief Executive); Stuart Goodall (ConFor Chief Executive); Stephanie Hilborne (Wildlife Trusts Chief Executive); Sue Holden (Woodland Trust Chief Executive); Alan Knight (Founder, Single Planet living ltd); Dame Fiona Reynolds (National Trust Director General); Sir Harry Studholme (Forestry Commissioner); John Varley (Estates Director, Clinton Devon Estates); William Worsley (Country Land and Business Association President).
The terms of reference, agreed with the chair, can be found at www.defra.gov.uk/rural/forestry/panel.
Defra received many requests to join the panel and all those that expressed an interest will be invited to submit their views and join in.
Published 17 March 2011