Foreign Secretary's visit to Jordan concludes
Foreign Secretary William Hague visited Jordan today. He held talks with Foreign Minister Nasser Judeh and visited the Bashabsheh refugee camp near the border with Syria.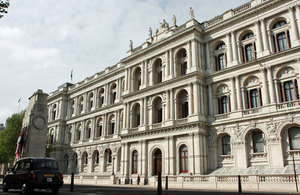 At the refugee camp he announced that the UK would train further human rights activists to document the appalling abuses being carried out in Syria.
Speaking at a press conference with Foreign Minister Judeh, the Foreign Secretary said:
"It is indeed a pleasure for me to work together with my colleague Foreign Minister Nasser Judeh. We have had many good discussions on this visit and on many other occasions. It has become entirely automatic and normal for us to consult each other about the whole range of foreign policy issues and it's part of the warm bilateral relationship and very deep, historical bilateral relationship between the United Kingdom and Jordan. We welcomed his Majesty the King to London recently and had many long and productive discussions with each other, and of course there are so many deep personal connections in the relationship between our two countries. We want to strengthen this further and to make sure that it is a thriving relationship for a long-term future.
"At a time of great change in the Arab world and many dangers, we welcome the determination of His Majesty to pursue and to deliver reforms here in Jordan.
"We have discussed, as you have heard, many foreign policy issues. Always very high on our list of discussions is the Middle East Peace Process and the need for Israelis and Palestinians to resume formal negotiations. I pay tribute to the work of Jordan in trying to make sure that happens and trying to put new energy into the MEPP. It's very important to continue our efforts to do that. The United Kingdom believes strongly in a two-state solution and that will slip away from us unless progress is made in the near future.
"We have also discussed the nuclear negotiations with Iran - the negotiations of the E3+3. We still hope that Iran will respond constructively to the offer that we have made. They have not yet done so in any way that any of the six nations in the E3+3 regard as satisfactory for those negotiations to make progress. We have brought into force very wide-ranging sanctions on Iran. Without progress in the negotiations we will intensify those sanctions in the months ahead. We are determined to prevent nuclear proliferation in the Middle East. The Iranians should not doubt our determination to prevent that coming about.
"But we have of course put a lot of time discussing the horrible situation in Syria and this morning we were able to hear for ourselves the moving and horrifying accounts of what is happening in Syria from people who have managed to escape over the border into safety here in Jordan. These are truly terrible accounts. We met people there who have had no connection with any political activity, let alone violence, and yet they have seen their homes shelled or bombed, and they have seen their homes robbed. Some of them had an extraordinary ordeal of travelling for months in order to get from as far away as Homs into Jordan.
"I want to pay tribute to the Jordanian people for their hospitality and for maintaining at a difficult economic time - for so many countries including Jordan - their generosity and hospitality, which is truly on display with the reception given to people in such desperate need.
"We are doing our best to help. Ten days ago we doubled the humanitarian funding that we give to £17.5 million. This will provide food for 80,000 people and shelter for 9,000 people. It is increasing our support for the UNHCR, some of which comes to the refugees entering Jordan. We will continue to increase that assistance if the needs continue to grow.
"What we have seen today should leave us in no doubt at all that a Chapter VII resolution of the United Nations' Security Council is required to mandate the implementation of Kofi Annan's peace plan and a transitional government in Syria with a peaceful political process, and to bring about the imposition of globally agreed sanctions on those who obstruct the implementation of that plan.
"There is no reason now not to agree on such a resolution. We are arguing for it along with other Western and Arab nations at the United Nations' Security Council. We will continue to argue for it over the coming hours. Of course there are continued disagreements on the Security Council.
"This process is the best hope of averting even greater chaos and bloodshed in Syria in the weeks and the months to come, because that is what I believe we are facing unless the UN Security Council can truly exert itself.
"And those nations who might block such a resolution will have to consider that if they do so they will increasingly be held responsible for the consequences and for the chaos and the bloodshed that is even now becoming worse in Syria as we have seen for ourselves today. So thank you very much. It is always a pleasure working so closely together. Thank you very much for having me here".
Answering questions the Foreign Secretary noted that:
"Prime Minister Fayez Tarawneh's remarks are very much similar to what I was just saying about the need for a clear and strong resolution in the United Nations' Security Council. Clearly, we have failed so far. The process that Kofi Annan has launched has failed so far to bring about a peaceful political process and so now we need the Security Council to greatly strengthen the pressure for that to happen.
"If the Annan plan was implemented, it is a solution, because it would bring about a cessation of violence and that's what the Assad regime said they would do right back on 12 April. And we agreed in our Geneva action group meeting, which included all the five permanent members of the Security Council on 13 June, that we would support a transitional government in Syria, including members of the present government and of the opposition on the basis of mutual consent to see a peaceful solution.
"But of course the situation is deteriorating so gravely that we do have to do other things. In the United Kingdom, for instance, we have continued to increase our support to the opposition and to apply more sanctions to Syria with or without a United Nations resolution. The situation is so grave and so unpredictable that I don't think any option should be ruled out in the future".
Published 17 July 2012