Foreign Secretary's Rosh Hashanah message
Foreign Secretary William Hague sends his best wishes to the Jewish community for Rosh Hashanah.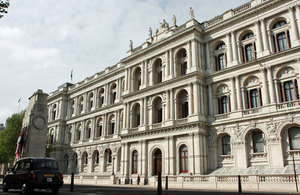 Speaking today, the Foreign Secretary said:
"I am delighted to send my best wishes to the Jewish community in the UK and around the world as you get ready to celebrate Rosh Hashanah.
The Jewish New Year traditionally gives us the chance to pause and reflect on the past year and its events. This year has seen historic developments across the Middle East. Those events have created great hope for freedom. They have also brought uncertainty for Israel.
It is my hope that the new year should bring us closer towards a negotiated solution between Israel and the Palestinians. This is the only way that Israelis and Palestinians can achieve the lasting peace and security they both need and deserve, and which the Arab Spring has made more crucial than ever.
I would like to wish you and your families a very Happy New Year. May this be a year of peace for Israel and all its neighbours. L'Shanah Tovah U'Metuka (to a happy and sweet new year)."
Published 27 September 2011