World news story
Foreign Secretary's comments on departure from EU Foreign Affairs Council
Foreign Secretary William Hague's comments following the EU FAC in Brussels yesterday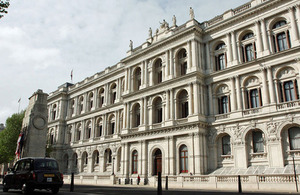 Speaking on leaving the EU FAC yesterday, UK Foreign Secretary William Hague said:
I think there has been very strong support at the meeting for the role that Cathy Ashton has played, the work she did in Egypt before the recent bloodshed trying to promote political dialogue. We want the way to be kept open for the European Union and the Member States of the European Union to be able to try to fulfil that role in the future. Of course all Ministers have been reflecting the strong condemnation of disproportionate acts of the Egyptian security forces but also of the actions of some of those opposed to the authorities in attacking churches and hospitals, that are totally unacceptable acts of terrorism. So there's been strong unity in the meeting about those things. We've been discussing what we've been doing in each country to revoke export licences on items that could be used for internal repression and also our assessment of other programmes of aid that the European Union provides, bearing in mind - as I said on the way in – that we don't want to hurt the people of Egypt in actions that we take. So you will hear later on from Cathy Ashton the conclusions of the Council.
On news of Mr Mubarak's possible release, the Foreign Secretary said:
I think our instant reaction – and I await further details – has to be that this is a matter for the Egyptian judicial system but we hope that all the decisions they take, particularly on such a sensitive matter, will be transparent and will be impartial as judicial decisions should be.
On Egypt the Foreign Secretary added:
The principles of our policy are to support democratic institutions, not to take sides, which includes showing our strong condemnation of what has happened since last Wednesday, what started last Wednesday. To show that there are consequences for that therefore. I mentioned that we have revoked some export licences already and have stopped security assistance in the UK. These are bilateral decisions but other Member States have done similar things. Secondly it is to continue to promote political dialogue and being able to maintain a position where we can continue to do that. And third, keeping faith with the majority of the people in Egypt who are caught up in this through no fault of their own. And so we don't want to penalise them. I think all of these things are strong factors in the discussion. But it wouldn't be right for me to give you the conclusions before Cathy Ashton does.
Further information
Follow @UKinEgypt on twitter
Find the UK in Egypt on Facebook
Subscribe to the announcements feed or email alerts to get our latest news and announcements
Published 22 August 2013
Last updated 22 August 2013
+ show all updates
edited
updated
updated
updated
First published.