Foreign Secretary: "Yemeni Government must protect its citizens"
Foreign Secretary William Hague met Yemeni Foreign Minister Abu Bakr al-Qirbi in London on 27 July 2011.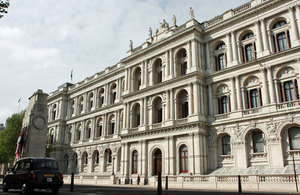 Speaking after the meeting the Foreign Secretary said:
"This is a critical time for Yemen, with political, security, economic and humanitarian crises. The UK stands ready to help.
The primary responsibility of the Yemeni government must be to protect its citizens, not only from greater violence but from economic collapse. We are deeply concerned by the deterioration of the economic situation, the fragmentation of the country and by the way in which al-Qaeda in the Arabian Peninsula is attempting to exploit the situation. The continuation of the current deadlock is affecting the lives and potential livelihoods of all Yemenis. This is not a sustainable situation and early progress is essential.
The UK fully supports the Gulf Cooperation Council Initiative and believes that it represents the best basis for a political settlement. It is vital that the process of transition starts as soon as possible and I urge President Saleh to agree this now without further delay to allow the handover of authority to begin."
Published 27 July 2011