World news story
Foreign Secretary William Hague: 'For us, the relationship with Canada is invaluable'
Foreign Secretary William Hague delivered opening remarks during the joint press conference for the Canada-UK Joint Declaration.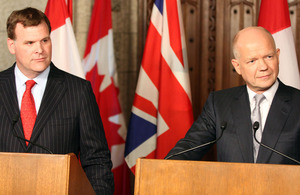 Good afternoon ladies and gentlemen, it is a pleasure to be here in Ottawa today. For us, the relationship with Canada is invaluable. It is a relationship that encompasses common history and so much of our culture. We share membership of NATO, the G8, the G20 and the Commonwealth, and Canada is our partner across a very broad spectrum of foreign policy issues.
Just last week, we saw the official opening of our new Consulate office in Calgary, bringing to five the number of diplomatic missions that the UK has in Canada. A modest addition perhaps, but an important one nonetheless, and a clear signal in these difficult economic times of where we see our priorities, which includes our relationship with Canada.
I have held substantive discussions with John Baird today on many issues, from the situation in Syria to the conclusion of an EU-Canada free trade agreement; from the welcoming reforms in Burma to the modernisation of the Commonwealth; and from the lack of transparency from Iran on its nuclear ambitions to the progress in Somalia on its transition back to a viable, democratic state
On Syria, the most pressing international issue on our common agenda, we discussed how we work together to support a transition to a more democratic and stable Syria, to collaborate to ensure safe and unhindered access to humanitarian support and to encourage the United Nations Security Council to take firm action to support a political solution.
The strength and warmth of the relationship between the UK and Canada brings real benefits to us both. It is important that we maintain that close co-operation and friendship and build on it wherever we can. When our Prime Minister visited Canada in September last year, he and Prime Minister Harper endorsed a Joint Declaration, setting out a renewed vision for our partnership. One year on, our revitalised collaboration has brought considerable and tangible results across a range of fields, such as partnerships in scientific innovation and research, reform of the Commonwealth and interoperability between some aspects of our military forces.
Today, we've endorsed an annex to that Joint Declaration, setting out further commitments to work together. I am especially pleased that it includes strengthening international efforts to prevent sexual violence in conflict, support for the development of institutions in Somalia and addressing the threat of piracy in the Horn of Africa.
We have also signed an MOU on closer co-operation between our foreign ministries, enabling us to increase our cooperation and maximise our reach and impact.
[It is about] how two foreign ministries, with common goals, can work together on shared values. It is about speed, flexibility, practicality and saving the taxpayer money in both countries. But it is also about being able to operate effectively in a networked world. It is not about any diplomat trying to work for two countries at the same time. And so it is the kind of practical cooperation which sensible foreign ministries take together in a world where there are more centres of decision making than ever before and where we need to be present in more places than ever before.
Published 26 September 2012