Foreign Secretary William Hague arrives in Malta for an official visit
The Foreign Secretary has arrived in Malta, his first visit since taking office and the first bilateral visit by a UK Foreign Secretary since Douglas Hurd.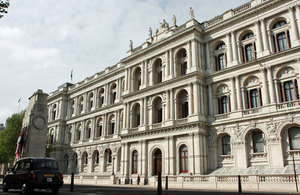 The Foreign Secretary will meet Prime Minister Lawrence Gonzi and Deputy Prime Minister and Minister for Foreign Affairs. He will thank Malta for their staunch assistance, particularly for humanitarian purposes, with operations in Libya, and he will welcome the strength of UK-Malta relations. He will visit Malta's Air Traffic Services and pay tribute to staff involved in the hugely increased workload of recent months during Libya operations. He will also host a meeting for the British Business Forum aimed at deepening economic ties.
Speaking on arrival in Valletta William Hague said:
"Malta and Britain are close allies, with a strong affinity based on history and shared values. We work closely together in the EU and on foreign policy issues including Iran and North Africa. I hope my visit will strengthen these ties.
"I am looking forward to my meetings with Prime Minister Gonzi and Foreign Minister Borg. I want to thank them in person for the support their Government has provided for our efforts in Libya and their invaluable assistance in the evacuation of over 500 British nationals from Libya earlier this year. We will discuss recent developments in Libya and how best to continue support to the new Libyan authorities.
"We will discuss a range of EU issues, including the importance of encouraging growth through the single market and our shared view that the EU budget must be rigorously controlled. We will also consider how the EU can tackle illegal migration effectively, as well as the EU response to the latest developments with Iran."
Published 16 October 2011