Press release
Foreign Secretary welcomes Ukraine peace plan
Foreign Secretary William Hague welcomes east Ukraine ceasefire and calls on Russia to support President Poroshenko's peace plan.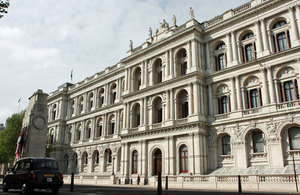 Speaking after the Ukrainian President's announcement, Mr Hague said:
I welcome President Poroshenko's announcement of a ceasefire. I urge separatists operating in eastern Ukraine to take this opportunity to lay down their arms and commit themselves to a peaceful resolution of differences.

The UK strongly supports Ukraine's sovereignty and its people's right to choose their own future. The peace plan set out by President Poroshenko is an important step towards this. It is vital that Russia now supports the plan and takes immediate steps to help end the violence in eastern Ukraine, including using its influence to encourage separatists to disarm, and stopping the flow of weapons across the border.
Further information
Follow the Foreign Secretary on twitter @WilliamJHague
Follow the Foreign Office on twitter @foreignoffice
Follow the Foreign Office on facebook and Google+
Published 20 June 2014