Foreign Secretary welcomes review of the European Neighbourhood Policy
Foreign Secretary William Hague has spoken after the European Commission published its review of the European Neighbourhood Policy.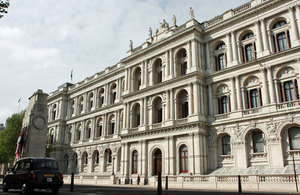 Speaking today, the Foreign Secretary said:
"I warmly welcome the European Commission's review of the European Neighbourhood Policy, published today.
"This review sets out the EU's strategy for its relations with its neighbours to the east and to the south. It is extremely timely given the events in the Middle East and North Africa.
"The Prime Minister and I have been calling for an ambitious new policy; a policy which recognises the epochal change taking place around the EU's neighbourhood, and supports the voices of democracy and reform which we have heard from Tahrir Square in Egypt to Minsk in belarus. In the 1990s, Europe's reaction to the fall of Communism in Eastern Europe was far-sighted and an astonishing success. Now we are seeing events on a similar scale take place on our southern borders. We must respond in the same way. We, as the UK, are already responding, supporting reformers in the Middle East & North Africa through our Arab Partnership. The G8 will discuss its response with the leaders of Egypt and Tunisia at the Deauville Summit this week. As the EU, we must respond by opening our markets and sharing our prosperity with those who are serious about reform.
"This Communication by the European Commission will launch a new partnership with our neighbours. It outlines significant incentives for those who seek meaningful reform, underpinned by clear conditions. The UK looks forward to working with the Commission, with the European External Action Service, and with other EU Member States to deliver on the EU's side of the bargain."
Published 25 May 2011