Foreign Secretary welcomes President of Bulgaria to UK
Foreign Secretary William Hague and President Rosen Plevneliev of Bulgaria held constructive and wide-ranging talks on bilateral, European and security issues.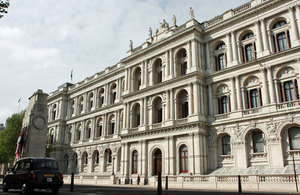 The Foreign Secretary passed on his personal condolences for the tragic bombing at Bourgas Airport in July and offered to share UK experiences of responding to terrorist attacks and crises with the Bulgarian authorities.
The UK and Bulgaria have a common understanding of the critical need to boost economic growth and employment in the EU. Bulgaria is a close ally on promoting the growth agenda in the EU. In particular, the Foreign Secretary and President Plevneliev discussed increasing innovation, promoting trade and strengthening the single market. The Foreign Secretary looked forward to the two countries continuing their cooperation in the EU, as well as furthering the bilateral relationship.
The Foreign Secretary congratulated Bulgaria on their athletes' performance during the London 2012 Olympic Games.
Published 11 August 2012