Foreign Secretary welcomes nuclear conference outcome
William Hague has given a statement welcoming international consensus at the Nuclear Non-Proliferation Treaty (NPT) Review Conference.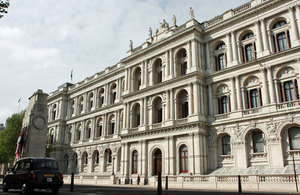 In a statement welcoming the outcome of the Review Conference of the Nuclear Non-Proliferation Treaty (NPT) taking place at the UN, Foreign Secretary William Hague said:
"I am delighted that the Nuclear Non-Proliferation Treaty Review Conference in New York has today reached agreement to strengthen international co-operation on the crucial tasks of preventing the spread of nuclear weapons, pursuing nuclear disarmament and promoting the safe and secure use of peaceful nuclear energy.
The UK pushed hard for success during these negotiations. Earlier this week, I made public the maximum number of warheads the UK holds and announced a review of our declaratory policy, to help build the climate of trust and cooperation between nuclear and non-nuclear weapon states.
The negotiations have not been easy and the outcome represents a compromise. But it also marks the first time in ten years that the international community has been able to come together to agree on the collective efforts that will be required. We now have, for the first time, a clear action plan to strengthen the Treaty.
This conference was an important milestone in our long-term vision for a world without nuclear weapons. Now we have a map to help us move forward. We will continue to work with all our partners to ensure we keep up momentum."
Published 28 May 2010