Foreign Secretary welcomes next Chief Prosecutor of the International Criminal Court
Foreign Secretary William Hague has spoken after Ms Fatou Bensouda was appointed as the next Chief Proscutor of the International Criminal Court.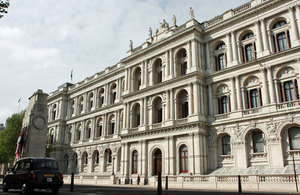 He said:
"Today the International Criminal Court sees its second Chief Prosecutor take up her role. I would like to take this opportunity to thank the first Chief Prosecutor Mr Luis Moreno Ocampo. During his nine year term as the Chief Prosecutor, Mr Ocampo has undertaken groundbreaking work in helping to break the cycle of impunity for those who have committed some of the most serious crimes of international concern. Mr Ocampo has done much to further the cause of international justice and for this we are grateful.
"I am delighted to welcome Ms Fatou Bensouda as the next Chief Prosecutor of the ICC. Ms Bensouda is an outstanding choice to take on the key role as head of the ICC's Office of the Prosecutor. The United Kingdom supported Ms Bensouda for this position, and her election by consensus is a clear demonstration that, although her role is fully independent, she will have the full support of the United Kingdom and all the States Parties when she takes office in June.
"The ICC is now widely recognised as a cornerstone for international justice and the UK has and will continue to be a strong supporter in helping the court to challenge impunity and to uphold international justice."
Published 15 June 2012