News story
Foreign Secretary welcomes new UN Special Envoy to Great Lakes
Mary Robinson has been appointed as the new UN Special Envoy to the Great Lakes region of Africa.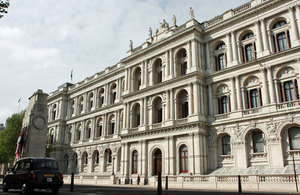 Speaking after her appointment the Foreign Secretary William Hague, said:
I welcome and support the appointment of Mary Robinson as the UN Special Envoy to the Great Lakes region. We are looking forward to working closely with her and partners in the region on overseeing the implementation of the Peace, Security and Co-operation Framework for the Great Lakes signed in Addis Ababa on 24 February.
The fragile security situation, particularly in the eastern part of the Democratic Republic of Congo, needs sustained international attention if it is to be resolved. Human rights violations, including the huge number of horrendous incidences of sexual violence, must be tackled. I am confident that Mary Robinson is the right person to galvanise the international community into action.
Further information
Published 18 March 2013