News story
Foreign Secretary welcomes Indonesia's ratification of the Comprehensive Nuclear Test Ban Treaty
Foreign Secretary William Hague has welcomed Indonesia's ratification of the Comprehensive Nuclear Test Ban Treaty (CTBT) and called on the remaining eight states to ratify.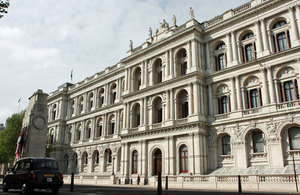 Speaking today the Foreign Secretary said:
"I congratulate the Indonesian government for ratifying the CTBT, the 156th country to do so. This is a significant step towards the Treaty's entry into force and to a global ban on nuclear weapon test explosions. I now call on the remaining eight states that need to ratify the treaty for it to enter into force to do so. I hope the Indonesian example of a change of direction in policy on the CTBT after 15 years will send a positive signal to them.
"Putting in place a legally binding ban on nuclear test explosions is one of the Government's key disarmament and non-proliferation priorities: the UK was among the first to sign and ratify, and we contribute world-leading expertise to help build up the Treaty's verification regime.
"The Treaty's Entry into Force will strengthen our own national security and will strengthen global security - we will all be safer with this Treaty than without it."
The CTBT bans any nuclear explosions, for military or civil purposes, and establishes a complex verification system to monitor compliance.
Published 6 December 2011