Foreign Secretary welcomes HRH Crown Prince of Bahrain to the UK
The Foreign Secretary welcomed His Royal Highness the Crown Prince of Bahrain, underlining the Coalition Government's commitment to building its relationship with Bahrain.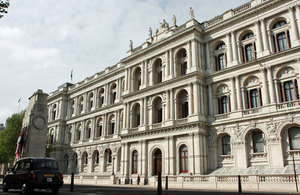 The Foreign Secretary welcomed the peaceful conduct of recent elections in Bahrain, and commended the participation of a broad range of political groupings from different confessions and political traditions.
He noted concerns raised ahead of the elections, regarding implementation of the electoral law and allegations of restrictions on campaigning, and welcomed the positive response of the Bahraini Government and their assurances that they would continue progress on political reform.
Speaking after the meeting, the Foreign Secretary said:
"It was a great pleasure to welcome HRH the Crown Prince of Bahrain to Westminster today. The UK has seen, over centuries, the gradual development of a liberal democratic society, and I am encouraged by the important steps that the Kingdom of Bahrain is taking on its own journey towards democracy. We are determined continue to work with and support Bahrain as it confronts the challenges along this path, to ensure the progress that is vital for this development. I wish the new National Assembly and Municipal Councils every success over the next four years in fulfilling their constitutional roles."
The meeting took place amid wider efforts across the Coalition Government to deepen the UK's relationship with Bahrain. The Foreign Secretary and HRH the Crown Prince discussed a range of issues of joint interest, including education and trade, and welcomed the growing opportunities for two-way investment between the UK and Bahrain in areas such as Liquid Natural Gas.
The Foreign Secretary welcomed the fact that UK exports to Bahrain had increased by 30% in the past year.
Published 1 December 2010