Press release
Foreign Secretary welcomes formation of new Palestinian interim government
William Hague highlights that UK support will rest on its commitment to international principles.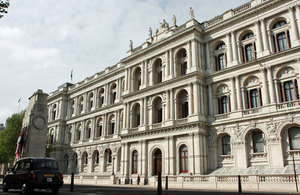 The Foreign Secretary William Hague said:
We welcome yesterday's announcement on the formation of a new interim technocratic government for the Occupied Palestinian Territories. Reuniting Gaza and the West Bank under a government committed to peace is a necessary condition for resolving the Israel-Palestinian conflict. We have made clear that our continued support to the new government will rest on its commitment to the principle of non-violence, and an acceptance of all previous agreements and obligations, including Israel's legitimate right to exist. We now look to the new government to demonstrate these commitments through its actions as well as its words.
Further information
Follow the Foreign Secretary on twitter @WilliamJHague
Follow the Foreign Office on twitter @foreignoffice
Follow the Foreign Office on facebook and Google+
Published 3 June 2014