Foreign Secretary welcomes EU Regulation on Iran
The Foreign Secretary, William Hague welcomed the adoption today of an EU Regulation that implements tough, new sanctions against Iran.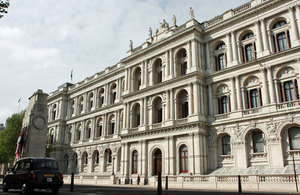 Speaking after attending the General Affairs Council in Luxembourg, the Foreign Secretary said:
"We've adopted the implementing regulations for the Iran sanctions that we agreed at the end of July. That is very important in itself. That is the European Union using its collective weight in the world, absolutely in the right way, working with the United States and sending a clear message to Iran that it is important to negotiate on its nuclear programme and that the pressure from Europe will intensify in the absence of those negotiations."
The Regulation, which broadens and deepens the measures already agreed in UN Security Council Resolution 1929, comes into force this week. The new measures will target those areas which have the most impact on Iranian decision makers, including in the energy and financial sectors.
European companies will not be able to make new investments in the Iranian oil and gas sector and the export to Iran of many key goods involved in the energy industry is now prohibited. In the financial sector, all payments to Iran over 40,000 Euros will be subject to prior authorisation to prevent money transferred to Iran being diverted to fund its nuclear programme or used for prohibited activities in the energy sector.
The UK continues to urge Iran to accept EU High Representative Ashton's invitation to substantive talks on its nuclear programme.
Published 25 October 2010