Foreign Secretary welcomes EU ban on Syrian oil
The EU has agreed a ban on imports of Syrian crude oil products as part of measures to place further pressure on the Syrian regime.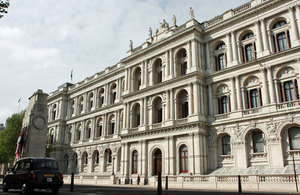 Speaking from the EU Foreign Minister's meeting in Sopot, Poland the Foreign Secretary said:
"The EU has made clear that we will increase the pressure on President Assad until he steps aside and allows a transition to a different type of regime. Throughout Ramadan we have witnessed horrific scenes of continued brutality. This is unacceptable and today we have agreed a ban on all EU imports of Syrian crude oil products to constrict the regime's funding and reduce its ability to fund the repression of innocent civilians.
"I have repeatedly made clear the importance of ensuring that our actions are targeted and that their impact on ordinary Syrians is minimised. This remains the case. The problems that the Syrian people are facing today are the direct result of years of economic mismanagement and the economic collapse caused by the Assad regime's current crackdown. Any attempt to pass on further hardship to the Syrian people would show his utter disregard for their well being. Let me be clear: President Assad and those around him are to blame for this. No one else."
Published 2 September 2011