Foreign Secretary welcomes elections in Libya
Foreign Secretary William Hague has described the elections in Libya as a "landmark moment".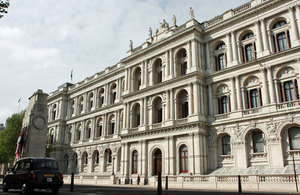 The elections in Libya today are the first free elections since the fall of the Gaddafi regime last year.
Commenting on events, the Foreign Secretary said:
"Today is a landmark moment: for the first time in over 42 years Libyans have exercised their democratic right to choose their leaders and have taken a historic step towards freedom and accountability. I congratulate the Libyan authorities for their rapid preparations, supported by the United Nations Support Mission in Libya, to organise these elections in such a short space of time.
"The UK has been actively involved - we were the largest donor to the UN fund supporting elections, we have funded training for observers, provided advice on coordinating election security and supported women and young Libyans to get involved in the political process. I am also pleased that, over the last few days, thousands of Libyans have had the opportunity to vote in special polling centres in the UK.
"Voting is continuing in some parts of the country and we await reports from the electoral commission, and the electoral observer missions on the ground, but reported security incidents appear isolated and are an attempt by a minority to use violence to deny others their opportunity to exercise their right to vote. We strongly condemn such attempts but this should not detract from what is already a remarkable achievement.
"Just one year ago, Libyans were still fighting against a brutal tyrant. Following over 40 years of misrule, challenges remain, including security, human rights, particularly the treatment of detainees, and the need to make further progress with restarting the economy and building government institutions. But today marks a further milestone towards realising Libyans' ambitions for a peaceful, stable, prosperous and democratic country. The UK Government shares these ambitions and will continue to support the Libyan people in realising them."
Published 7 July 2012