Foreign Secretary: We must make progress on Middle East Peace Process
Foreign Secretary William Hague commends the leadership of President Abbas, urges further progress on direct negotiations.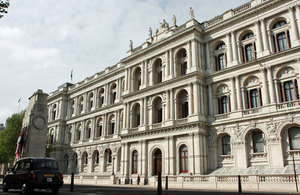 Foreign Secretary William Hague said:
"I spoke with President Abbas late last night and was impressed by his resolve to return to direct negotiation if possible. I welcome the significant progress achieved by the Palestinians in recent years on their Road Map obligations with regard to security and institution building, including reducing violence against Israel substantially.
A freeze on settlement activity is now urgently important to enable talks to continue and achieve the real prize of a peace deal of a secure Israel living alongside a sovereign and viable Palestinian state. We must make progress before the window closes on a two state solution.
I commend President Abbas' unwavering commitment to peace and the leadership he provides to the Palestinian people."
Published 9 October 2010