Foreign Secretary: "We have to win our place in the world economy"
How diplomacy can equip Britain to succeed in the 21st century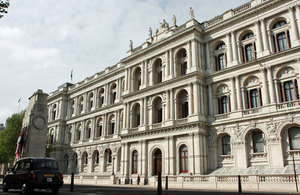 In a speech to the Annual Dinner of the CBI on 16 May, Foreign Secretary William Hague will tell British business leaders that the Foreign and Commonwealth Office is building the relationships that help British business expand market share in the fastest-growing economies.
In his speech, the Foreign Secretary will highlight the role of British Embassies and High Commissions in developing vital new networks, connections and opportunities overseas, particularly in emerging economies. The UK's diplomatic representation in the fastest-growing cities and regions around the world is set to expand, with up to eleven new British Embassies and eight new Consulates or Trade Offices by 2015.
You can read the Foeign Secretary's speech in full here following the event.
The Government's trade strategy aims to double UK exports to £1 trillion a year by 2020; and get another 100,000 companies exporting by 2020.
You can read more here about how the Foreign Office supports growth and prosperity here.
Published 16 May 2012