Foreign Secretary visits Yemen and urges that reform must not be put off
Foreign Secretary William Hague visited Yemen on 9 February as part of his regional tour of the Middle East and North Africa.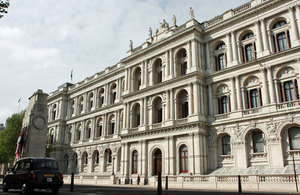 He met with President Saleh, senior Ministers and representatives of the opposition parties. He was accompanied by International Development Minister Alan Duncan.
The Foreign Secretary made clear that Yemen was vital to regional and global security and that the UK wanted to build a more effective partnership to tackle the country's security, economic and development challenges. He said the UK would continue to support the Yemeni government and its people as they seek a better future, but reiterated the need for the government to focus on political reforms as well as increasing economic growth and creating jobs. He also stressed the importance of the National Dialogue in achieving broad-based political participation in upcoming parliamentary and presidential elections.
In meetings with President Saleh, the Foreign Secretary urged further and faster progress on political reform to help ensure the long-term stability of Yemen and encouraged the President to implement the 10-point plan agreed at the last meeting of the Friends of Yemen. He emphasised the UK's determination to work with Yemen, the United States and others to combat the threat posed by Al Qaeda in the Arabian Peninsula. He stressed his backing for a united and stable Yemen, capable of combating this threat.
Published 10 February 2011