Foreign Secretary visits Serbia
In his first visit to the country as Foreign Secretary, William Hague travelled to Serbia today to meet with members of the Serbian Government.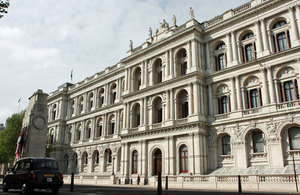 The Foreign Secretary travelled to Belgrade for meetings with President Tadic, Prime Minister Cvetkovic, Foreign Minister Jeremic and other key Serbian Government Ministers.
In his meetings the Foreign Secretary underlined the UK's strong support for Serbia's European Union perspective, which he described as an 'unparalleled opportunity' for the citizens of the country.
The Foreign Secretary discussed the issues that Serbia needs to address on its path towards EU membership. He emphasised the importance of the offer made by Baroness Ashton to facilitate a process of dialogue between Pristina and Belgrade, to promote co-operation, achieve progress on the path to Europe and improve the lives of the people.
The Foreign Secretary urged Serbia to take up this offer from the EU. He made clear that the future of both Serbia and Kosovo lies in the EU, and he reiterated the UK's firm position that there can be no further discussion of Kosovo's status.
Published 1 September 2010