Foreign Secretary visits Saudi Arabia
Foreign Secretary William Hague arrived in Saudi Arabia today for talks with Foreign Minister Prince Saud.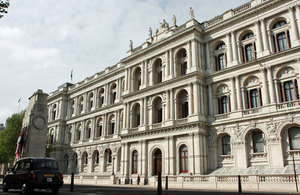 The talks will build on the Two Kingdoms Dialogue and enable the UK and Saudi Arabia further to develop relations across a broad range of issues.
The Foreign Secretary will make clear the importance the UK attaches to its bilateral relationship with Saudi Arabia and announce the intention to upgrade this to a full Strategic Partnership by the end of the year. His discussions with Foreign Minister Prince Saud will focus on regional issues including the opportunities and risks presented by the Arab Spring and key regional developments in Yemen, Bahrain, Syria, Egypt, Iran, and the Middle East Peace Process.
Speaking ahead of the visit the Foreign Secretary said:
"Saudi Arabia is an important ally and a key player in the Middle East and beyond. Britain's links with the Kingdom are deep and long-standing and extend from inter-governmental relations to the rich network of links between our people. It is vital that we continue to develop our relations across the board. I look forward to discussing how to achieve this and our intention to upgrade the existing Two Kingdoms Dialogue to a full Strategic Partnership by the end of the year. This will enable greater engagement between our two Kingdoms and formally put our relationship on a par with that between Britain and other major global partners.
At a moment of unprecedented change, this is more important than ever. There is a critical need for us to compare thoughts on current regional developments, including on how we can work together in such a strategically important region where events have shown that governments need to respond to legitimate calls for greater freedom with reform and not repression. I will be discussing the importance of this and sharing views on the opportunities and challenges presented by the Arab Spring, as well as a range of other bilateral issues.
Published 5 July 2011