Foreign Secretary visits Sarajevo
The Foreign Secretary has restated the UK's unwavering support for Bosnia-Herzegovina during a press conference with the Chairman of the Bosnia-Herzegovina Council of Ministers Vjekoslav Bevanda.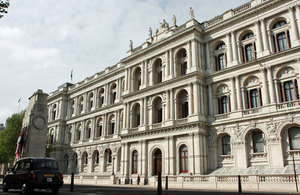 The Foreign Secretary said:
"I'm delighted to be back here in Sarajevo on my second visit in two years.
I've just had a very useful meeting with Chairman Bevanda. I am grateful to him, and look forward to meeting the Foreign Minister and the Presidency later today.
I have come to Sarajevo to restate the UK's unwavering support for Bosnia-Herzegovina as a united, stable, and sovereign state; and to reaffirm our strong friendship with the Bosnian people.
The British Government firmly believes that Bosnia's future lies in full membership of the European Union and NATO. We will do everything we can to support Bosnia on its path to those goals.
Let me be clear that Bosnia can only be a member of the European Union as a single, sovereign state. Those who think that there is another way for Bosnia are simply wrong, and those who undermine the Bosnian state will not be our partners.
We believe that Bosnia-Herzegovina's accession process should move forward as fast as its political leaders are ready to go. The doors of the EU and NATO are open to Bosnia-Herzegovina, but it is down to Bosnian leaders to decide how quickly the country will go through these doors.
Regrettably, there is a real danger today that Bosnia will lag further behind her neighbours in achieving her Euro Atlantic ambitions.
Some good progress was made early this year, including agreement in June to an EU Road Map. But I think most people would agree with me that progress since then has been disappointing.
Bosnia-Herzgovina has just as much potential as any of its neighbours. If the country falls behind the rest of the region because of a lack of bold leadership, it will be the people of Bosnia who are most affected. It is they who stand to lose the opportunities and wider horizons that membership of the EU and NATO would bring.
I am here to urge all Bosnian leaders to stop that from happening and to seize the opportunity to work together in building a new future for Bosnia, one in which all its citizens prosper and are secure. The people of this country deserve a prosperous and stable future, and it is time to start working on it in earnest.
So I hope that political leaders will make renewed efforts now to fulfil the commitments they have made and achieve results for the Bosnian people. In particular we are calling for Bosnia-Herzegovina's leaders to take the necessary steps to unlock progress: to agree on how to resolve the 'Sejdic-Finci' issue; to set up an EU coordination mechanism so that Bosnia can speak with one voice; and to resolve the defence property issue.
So I have come here in a spirit of open friendship and partnership between Britain and Bosnia-Herzegovina. Our commitment to this country is for the long term.
I am delighted to be here and look forward to working even more closely with the people and leaders of Bosnia in the years to come."
Published 24 October 2012