Foreign Secretary visits Israel, the Occupied Palestinian Territories and Egypt
Foreign Secretary William Hague is visiting Israel, the Occupied Palestinian Territories and Egypt. While there he is encouraging parties to take the steps needed to resume direct talks on the Middle East Peace Process.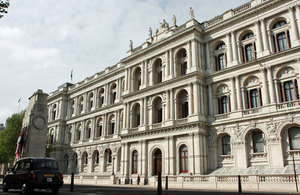 During his visit to Israel the Foreign Secretary met Foreign Minister Avigdor Lieberman. At the end of their meeting they signed a Co-Production Film Treaty. The Treaty will bring real benefits to the UK and Israeli film industries, and help maximise the opportunities for UK producers to produce films with Israeli partners.
The Foreign Secretary also signed a UK- Palestine Film agreement with the Palestinian Minister of Culture, Siham Barghouti. This agreement is the first ever bilateral treaty between the two nations and will lead to the sharing of ideas, knowledge and skills, helping stimulate productivity in both film industries.
Commenting on the signings, Minister for Culture and the Creative Industries, Ed Vaizey said:
"The two separate film co-production treaties that the UK has signed today with Israel and the Occupied Palestinian Territories will pave the way for a new era of co-operation in film making. These bilateral treaties show that culture and the arts have the unique power to bring people together across international boundaries and political divides."
"The UK is home to talented film makers who provoke and challenge, presenting audiences with stories about controversial aspects of society, the same can be said for the film community across Israel and the Occupied Palestinian Territories. Today we have opened the gateway to build on these creative strengths and the passion for cinema that we have in common.
"By removing administrative barriers and providing incentives DCMS is increasing investment opportunities for the UK film industry, encouraging profitable and culturally significant film co-production projects and opening up possibilities to share our skills, experience and infrastructure."
Important discussions
The Foreign Secretary met with leader of the opposition, Tzipi Livni and will meet Israeli President Shimon Peres, Prime Minister Benjamin Netanyahu and Defence Minister Ehud Barak before leaving for Cairo.
He will be the guest of honour at a high-level dinner to celebrate UK-Israel science links and visit Techject Aerofoils LTD in Tefen, northern Israel - a model example of UK-Israel high-tech manufacturing collaboration.
In the Occupied Palestinian Territories, the Foreign Secretary met Foreign Minister Riyad Al Malki and Palestinian community leaders from areas affected by the barrier, as well as prominent residents of East Jerusalem.
In Egypt he will meet with Minister for Foreign Affairs Aboul Gheit, Arab League General Secretary Amre Moussa and with high-level Egyptian officials to discuss a wide range of issues of mutual interest, including Sudan and peace in the Middle East.
Published 3 November 2010