Press release
Foreign Secretary visits Indonesia and the Philippines
William Hague visits South East Asia to strengthen UK partnership with two fast-growing economies and vibrant democracies.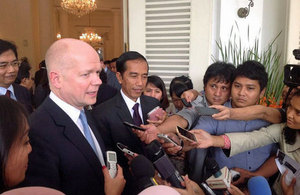 The visit, to Indonesia and the Philippines (27-31 January), is the latest in an unprecedented round of high-level visits to and from South East Asia over the past two years that have revitalised the British Government's relationship with the region.
In Indonesia, the powerhouse economy of South East Asia, the third most populous country in the world, and its largest Muslim democracy, the Foreign Secretary will meet his counterpart Foreign Minister Marty Natalegawa to discuss UK Indonesian co-operation and international issues of joint interest. He will attend events focused on improving transparency in government and promoting the UK's Preventing Sexual Violence in Conflict Initiative.
The Philippines is one of Asia's fastest-growing economies and is predicted to become the 16th biggest economy in the world by 2050. It is the sixth largest English speaking nation (Britain is the fifth). The Foreign Secretary will meet President Aquino, Vice President Jejomar Binay and Secretary of Foreign Affairs Albert del Rosario for a wide discussion of security and prosperity issues. He will also hear first-hand how the country is recovering from last year's devastating typhoon and the important difference the UK's contribution made, and discuss what more needs to be done.
In Manila, he will make a major speech on the UK's relationship with Asia in front of an invited audience drawn from the Philippines government and legislature, university students, members of the diplomatic corps, and international and local media.
Speaking before his visit, the Foreign Secretary said:
Britain is now engaging with Asia on a totally different footing from the past. Indonesia and the Philippines are vibrant democracies, as well as vibrant economies, and representative of the potential for much deeper political co-operation with Asian partners in international affairs. That's why I am reallocating more staff and resources, and more of my own time, to Asia than ever before. These relationships are essential for Britain's long term prosperity and security.
Further information
This is the first visit of a Foreign Secretary to Indonesia since 2005, and the first to the Philippines since 1997. The Prime Minister visited Indonesia in April 2012, and the Secretary of State for International Development visited the Philippines in December 2013.
Follow the Foreign Secretary on twitter @WilliamJHague
Follow the Foreign Office on twitter @foreignoffice
Follow the Foreign Office on facebook and Google+
Published 27 January 2014