Foreign Secretary visits Egypt
Foreign Secretary William Hague has arrived in Egypt for talks with Egyptian officials, activists and business leaders on supporting Egypt during its transition to a democratic and stable state.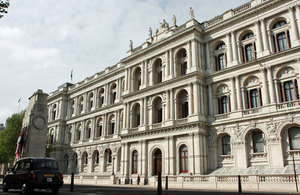 The Foreign Secretary will meet Field Marshall Mohammed Tantawi, the Head of the Supreme Council for Armed Forces, Prime Minister Essam Sharaf, Minister of Foreign Affairs Nabil El Arabi, and youth activists. He will also hold a meeting with leading business figures and discuss the latest developments in the region with Arab League Secretary General Amr Moussa.
Speaking ahead of his visit the Foreign Secretary said,
"I look forward to visiting Egypt and meeting with key officials, activists and business leaders as Egypt rightly moves towards a democratic, civilian-led government and an open, democratic society.
"As a result of the extraordinary events of the recent months and the courage and determination of the Egyptian people, Egypt today stands ready to achieve the transition to a democratic government that meets the aspirations and commands the respect of all Egyptians.
We welcome the actions being taken by the authorities to move towards this - including the reorganisation of the State Security organisation but there is still more to be done. The success of the Egyptian transition is critical to that of the Arab Spring. The Egyptian people have led the way. So it is even more important that they are able to overcome the political and economic challenges they now face. That is why in addition to generous support from the EU, Britain will continue to offer assistance through our Arab Partnership.
I also look forward to wide-ranging discussion on a range of regional issues including the situation in Libya and Syria, and the latest developments on the Middle East Peace Process."
Published 2 May 2011