Foreign Secretary visits Berlin and Warsaw
Foreign Secretary William Hague visited Berlin with Deputy Prime Minister Nick Clegg. Mr Hague then went on to Warsaw.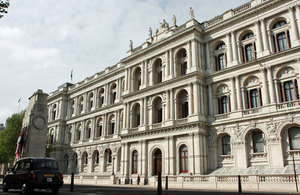 The Foreign Secretary and Deputy Prime Minister held a press conference with German Foreign Minister Guido Westerwelle in Berlin on Thursday June 10. Before his journey to Berlin, Mr Hague commented that the visit with Mr Clegg presented an opportunity to 'show our EU partners the British coalition government working together'.
Mr Hague then attended a joint press conference in Warsaw with Polish Foreign Minister Rados?aw Sikorski.
The meetings in Berlin and Warsaw were the last in a week long series of visits made by the Foreign Secretary to European capitals. Mr Hague met with French Foreign Minister Bernard Kouchner on 6 June and Italian Foreign Minister Franco Frattini on 7 June. Mr Hague has pledged an 'active and energetic' approach from the British coalition Government towards the European Union.
Published 11 June 2010